The Best indoor air quality monitor – Your First Step to Clean Air – Create a healthy home
February 23, 2022
2022-06-29 12:00
The Best indoor air quality monitor – Your First Step to Clean Air – Create a healthy home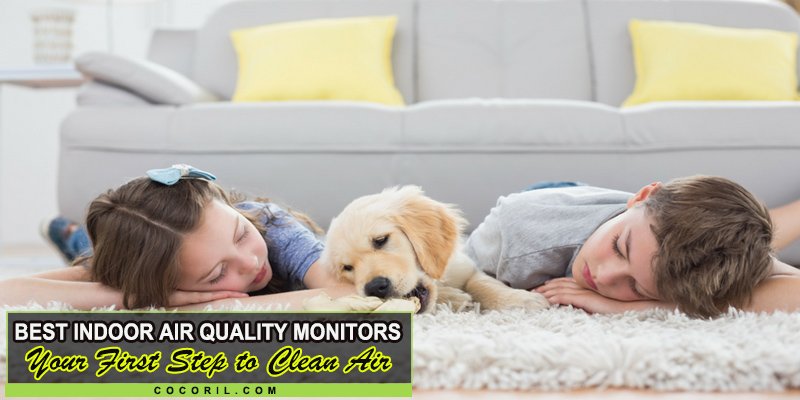 The Best indoor air quality monitor – Your First Step to Clean Air – Create a healthy home
The first step to clean the air is using the best indoor Air Quality Monitor. An indoor air quality monitor provides real-time information on the levels of common contaminants and other air conditioning systems in your house. 
Don't take the quality of your home's indoor air for granted. According to studies, 96% of households have at least one indoor air quality problem. Excessive dust, high humidity, or emissions from household cleansers or building materials could all blame for indoor pollution. 
Most Indoor Air Quality monitors use a led indicator or push alerts to your phone or tablet to alert you to dangerous levels. Some indoor air quality sensors also measure outdoor air quality. Measurements are usually presented on the Indoor Air Quality device's screen and via a connected app on your smartphone.
After being alerted, you can take steps to reduce indoor pollution, such as opening windows. In addition, some smart appliances, such as a fan, air purifier, or dehumidifier, will be triggered by some monitors to help improve interior air quality. Finally, a good Indoor Air Quality (IAQ) monitor should give you enough information to examine and eliminate the source of poor air quality.
The Top 10 Best Indoor Air Quality Monitors For All Budgets
1. Airthings Wave Plus – Radon & Air Quality Monitor
Have you checked your home's radon levels recently? Radon is released into the atmosphere by the natural decay of uranium in soil, rock, and water. 
It's common in households, and it's currently the second greatest cause of lungs cancer in the U.S. The Airthings Wave Plus detects radon and analyses volatile organic compounds (TVOCs), carbon dioxide (CO2) levels, temperature, air pressure, and humidity.
This battery-operated device may last up to 16 months on a single charge and can be placed anywhere in your home. It connects through Bluetooth and syncs with the free Airthings Wave app to offer you a complete picture of your home's air quality and complete management. 
The color-coded indicators on the monitor indicate the state of your indoor air. Google Assistant, Alexa, and IFTTT smart home appliances are also supported in this Air Quality Monitor. 
2. uHoo Smart Air Quality Sensor – Indoor Air Quality

Monitor
If you install the uHoo Indoor Air Quality Monitor in your home, you won't have to worry about the invisible contaminants hiding in your home.
This complex device includes a staggering nine built-in detectors, making it far from the cheap air quality monitor on the market. It measures nitrogen dioxide (NO2), carbon dioxide (CO2), carbon monoxide (CO), volatile organic compounds (VOCs), PM2.5, humidity, ozone, temperature, and air pressure.
The uHoo Indoor Air Sensor has a sleek look and a surprisingly small size. In addition, this high-tech device is equipped with a multi-core microprocessor and 128-bit SSL encryption.
Connect it to your smart home network for automatic air quality control and pair it with an air purifier or thermostat. The uHoo app is simple to use and provides individualized notifications, advice, and room-by-room air quality information.
3. Temtop M10 Air Quality Monitor – Real-Time Indoor Air Pollution Detector
If you need a budget-friendly indoor air quality monitor, we suggest the Temtop M10 Air Quality Monitor. The M10 Air Quality Sensor calculates an air quality index by measuring VOC, PM2.5, and formaldehyde (HCHO) (AQI). 
Its bright display is read from across a room. As well as its small size and straightforward design make it ideal for a desk and bedside table. In addition, the device will turn on with a single button press. Unfortunately, the M10 has no related app, much less the smart capabilities, because it lacks Wi-Fi access.
The M10 doesn't track its measurements over time. It doesn't offer outdoor air pollution levels from surrounding weather stations. Plus, it doesn't give you advice on how to enhance your air quality. And also, it doesn't let you check the air quality on the phone because it lacks Wi-Fi access and an app. Nevertheless, you'll probably enjoy it if that seems like blessed simplicity to you.
4. Amazon Smart Air Quality Monitor with Echo Show – Best For Bed Rooms
Amazon's Smart Air Quality Monitor detects particle matter, volatile organic compounds (VOCs), humidity, carbon monoxide, and temperature. The color-coded LED can be used to check the present air quality. Depending on the air quality in the room, it changes color from yellow to green to red.
When the Smart Air Quality Monitor is linked to an Echo Show or an Echo Dot 5, users may use the Alexa app to get a simple air quality score. Alexa can send out notifications as well. It's worth noting that while this monitor measures carbon monoxide (CO), it doesn't measure carbon dioxide (CO2) or radon levels.
The Amazon Smart Air Quality Monitor makes it simple to figure out what's in your air. This indoor air quality monitor measures volatile organic compounds (VOCs), Particulate matter (PM2.5), humidity, carbon monoxide (CO), and temperature. In addition, the color-coded LED indicates present air quality, as well as a simple-to-understand air quality score on the Alexa app.
You can receive warnings on your phone and even announcements on your Echo devices if Alexa detects bad air quality. Alexa is easy to set up. The Amazon Smart Indoor Air Quality Monitor lacks a microphone and speaker for sounding an alarm, as well as Alexa. Use any Echo device (available separately) or even the Alexa mobile app for voice commands and alerts.
This device currently supports routines driven by temperature changes. Other sensors do not currently have full Routines capability. This device is a carbon monoxide (CO) monitor that measures CO levels in the air. This gadget does not measure radon or Carbon Dioxide (CO2). This monitor is used indoors only.
5. Airthings 4200 House Kit, Radon, Mold Risk & Indoor Air Quality Monitoring System – Best for Multi Rooms Access
The Airthings 4200 House Kit detects a variety of toxins and gases. The hub guarantees that the monitors are available 24 hours a day, seven days a week, delivering information so that users may check indoor air quality at any time and from any location.
Users can find the Air Quality Index measures, provide voice instructions, or connect to a smart device to manage an air purifier, thermostat, humidifier, and more in a smart network like Google, Alexa, or IFTTT.
The Airthings Wave second Generation, Wave Mini, and Airthings Hub are included. The monitors detect total VOCs, humidity, radon, temperature, and mold danger.
They also monitor pollen levels outdoors to alert users when it's time to close doors, ventilate, and purify the air to prevent asthma and allergy attacks.
6. YVELINES Air Quality Monitor and Air Quality Tester 
The YVELINES Air Quality Monitor detects carbon dioxide, particulate matter, and volatile organic compounds (VOCs) in the air. Carry this compact, portable air quality sensor with you to keep an eye on the air quality as you move from room to room, or keep it on a table to keep an eye on a kid's room, bedroom, workplace, or other space.
The YVELINES tester has a digital LED display that shows the current level of pollutants you're breathing, as well as straightforward operation and complete real-time testing. The monitor uses electrochemical sensor technology to detect tiny variations in air quality.
After a full charge, the monitor's batteries last 3 to 6 hours, so you may wish to plug it in where you rest and use it as required in other rooms. This isn't a smart air monitor, but it has statistics displayed on the screen.
This air monitor is simple to use, requiring only the press of a single button. The one-page design allows everyone in the home to examine all of the real-time readings simultaneously easily. It can also provide an average value for every air and surroundings quality color indicator. This will alert you that your air is dangerous and that you should take action.
7. Zigma Indoor Air Quality Monitor and Air Purifier for Large Room
Zigma has developed an innovative AI self-learning algorithm based on various household situations to present you with the most efficient and cost-effective purification method. In addition, this air purifier's built-in high-quality filtration system will make breathing safe. 
The H13 HEPA filter inside removes 99.97 percent of dust and pollen. It absorbs odors, smoke, and other pollutants as well. It only takes 15 minutes to create a free-breathing zone. This monitor has a CADR of up to 330m3/h. This air quality monitor has a cleaning area of 1580 square feet.
It features a three-level purification mode. With this cleaner, you can keep a peaceful atmosphere in sleep mode to ensure a full night's sleep without being disturbed by unwanted sounds. It also comes with a child lock, ideal for families with kids and pets. 
It has over ten extra features, such as the ability to plan purification cycles, replace filter reminders, build sceneries, connect devices with family, and much more. In addition, it has voice control with Alexa, Siri, and Google Assistant and remote control via the Zigma app.
8. IQ Air [Air Visual ProAir Quality Monitor] – Real-Time Indoor Air Quality Monitor
IQAir's AirVisual Pro Air Quality Monitor features innovative laser technology, airflow management, and a carefully calibrated calibration algorithm for precise particulates and CO2 data. 
The monitor tests for PM2.5, PM1, and PM10 to provide detailed information about particulates in a home, which can help prevent allergy attacks.
Temperature, CO2 levels, humidity, and air pressure are all monitored by the air quality monitor. In addition, users can define settings for specific notifications using IFTTT.
The AirVisual Pro is connected to Wi-Fi, and readings are viewed on a phone app or a laptop. The watch also estimates air quality indexes in over 10,000 sites worldwide, allowing users to stay aware and plan trips during healthier times.
9. Biaoling Air Quality Monitor Accurate Co2 Tester-Multi Functional Air Gas Detector
The BIAOLING Air Quality Monitor measures reliable particle and gas monitoring even when the power goes off. On a single charge, the machine can monitor the quality of the air for 9 hours and display the results on a simple LED screen. 
In addition to formaldehyde and carbon dioxide, this model will detect particulate matter as fine as 2.5 millimeters and a variety of VOCs. In addition, you can set the device to sound the alarm if the air quality falls below an acceptable level.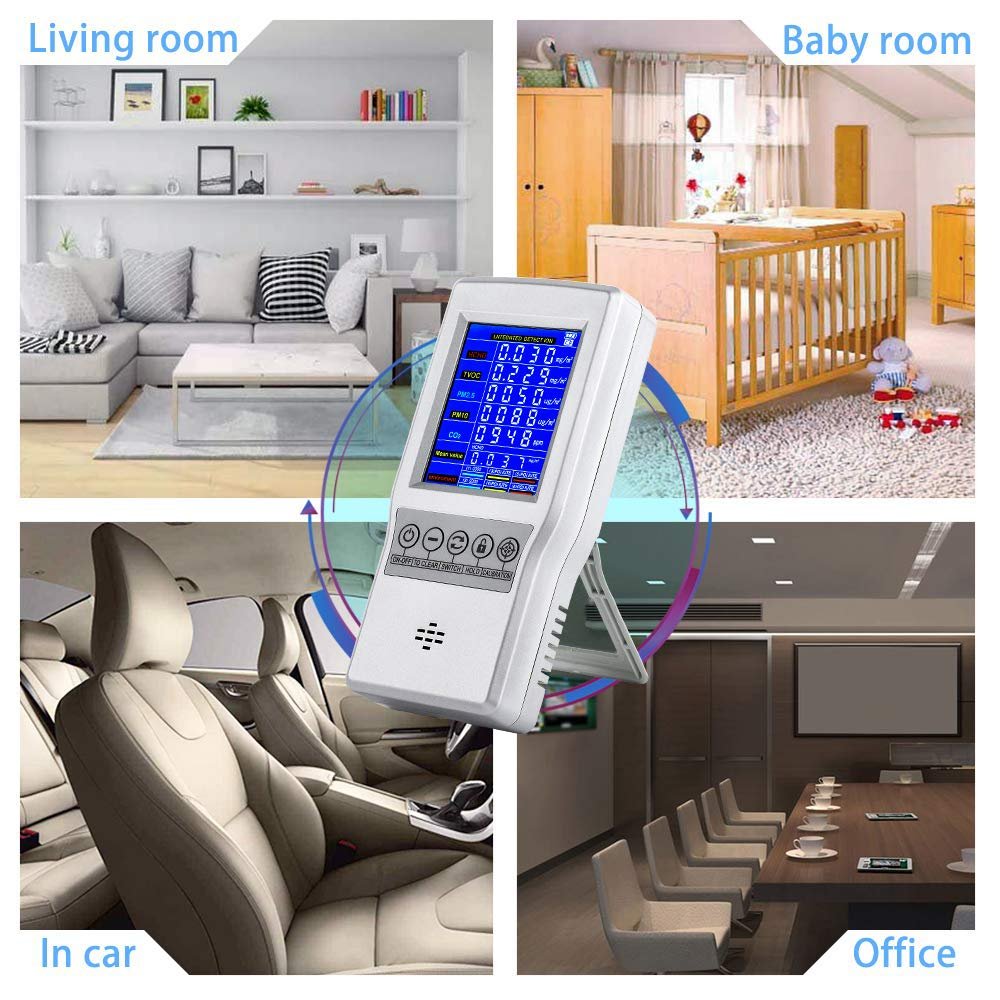 The BIAOLING monitor includes a 3,000mAh battery pack that charges via a USB port, as well as a fold-out stand that allows you to place it on a desktop for convenient access. The BIAOLING enhanced indoor air quality monitor has a DART biosensor that accurately measures carbon dioxide (CO2), the volatile organic compound (TVOC), formaldehyde (HCHO), and particle matter (PM2.5/PM10) in the air. 
Because long-term monitoring causes real-time data to become unstable, it is recommended that you focus on the average value of each gas after monitoring for a sufficient amount of time.
10. Ecowitt WH31 Indoor Air Quality Monitor Wireless Multi-Channel Thermometer – Best for both indoor and outdoor
The Ecowitt air quality sensor is simple to set up and use. To use this air quality monitor, plug it in, link it to the home Wi-Fi network, or pair it with your phone over Bluetooth.
The device is powered by 2 rechargeable battery cells, and the battery level is displayed on the display screen. It also includes a useful solar panel that can serve as a backup power supply. 
The Honeywell HPM series particles sensor is also used in this monitoring system to measure PM2.5 properly. And it will tell you where you stand by evaluating your current air quality as good, poor, moderate, severe, unhealthy, or hazardous.
It also monitors the temperature and relative humidity conditions in your home. This air indoor quality monitor can be utilized in various interior spaces, including offices, automobiles, hotels, rental homes, and nearly any other indoor location.
Things to be Consider Before Buying An Air Quality Monitor
Measurements
It's vital to choose an air quality monitor that can provide you with a comprehensive and accurate image of the atmosphere in your house. Monitors that measure tiny particle matter and volatile organic compounds can help you understand your home's air quality. These two indicators are crucial for maintaining a healthy air environment. You'll get even more information with four monitors that detect humidity, Carbon dioxide, heat, and air pressure.
Size
A handheld, battery-powered instrument that provides real-time readouts is a viable choice if you want to test air quality in multiple locations, despite the fact that almost no air quality sensor will take up an excessive amount of space. As a result, it could be at the expense of a thorough display or imaginative design. On the other hand, a gadget designed to stay in one location, such as on a wall or on a table, may be more visually beautiful, even if it is larger.
Smart Capabilities
Software-based air quality monitors that are suitable for smart homes have become increasingly popular. However, there are some high-quality, low-tech options. When you integrate the air quality monitor with the rest of your smart device setup, it can connect with your thermostat or air filters to provide comprehensive air quality control. A software device, on the other hand, will appeal to you if you want additional information about your readings, suggestions on how to improve your home's air quality, and performance monitoring over time.
Final Words
At home or work or inside the car, the indoor air quality monitors let you & your family breathe easier and experience some allergy relief. Best of all, most of these solutions are reasonably priced. Select the best ductless range hoods also to relieve air pollution. The ductless range hoods also make your kitchen clean and safe.