How To Clean The Headphone Cushions
January 29, 2022
2022-07-06 12:04
How To Clean The Headphone Cushions
How To Clean The Headphone Cushions
Nowadays, headphones have become a part of our life. Most people spend their time hearing music, playing games, or watching movies. When watching films in public places, it's a good idea to wear headphones, so you don't disturb the person sitting next to you, and best noise-canceling headsets remove the surrounding sound too. Cushions are an important aspect of your earbuds since they make listening more pleasurable.We were bought the best headphones on a high budget. But most of us forgot to clean the headphones we were using daily. Many people don't know how to clean the headphone cushions.
Headphones become dirty very easily because we are carrying them in outdoor places. Some best gaming headphones have big cushions to give comfort. If you are not maintaining the headphones properly, it may cause some infections to your ears. It is better to prevent infections by cleaning them perfectly, as we all know.
How To Clean The Headphone Cushions?
Here we have guided you to clean the headphone with soapy water and given some tips to maintain the headphones.
Cleaning with Soapy Water
1. Remove the earphone pads from headsets
Pull off the elastic band that runs along the base of your cushioned earbuds. There is no need to wash your headset cushions while they're still linked to the headsets as you are operating electronics.
2. Remove any dirt or hair using the lint
As a first step, rub a lint roller on the surface of your cushions to remove anything stuck to them. If your headphones are dirty, use many sheets to clean them completely. Lint rollers can be bought in almost any shop that offers pet products.
3. Put a clean towel in soapy water for a few minutes
Take a vessel and fill it with clean water. Add a teaspoon of detergent and stir it until it disappears fully. Squeeze out any leftover suds with a clean cloth dipped in the sudsy water.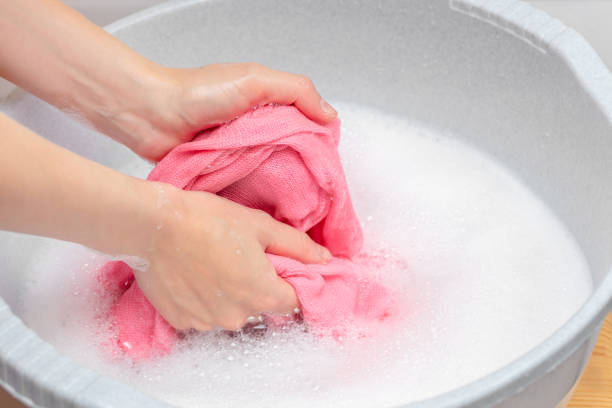 4. With the wet cloth, clean the surface of your cushions clean
Wipe the area of your cushions, paying special attention to the parts that come into contact with your ears. Wash your earphone pads from top to bottom—even if they do not even appear dirty. Because there's a strong possibility, they've accumulated dirt and sweat in the last few months.
5. With a toothbrush, remove any dirt and clean it away.
Concentrate on the areas of dirt or dust clinging on your earphone pads with a soft toothbrush. Brush the tough locations until the dirt and crud wear down, then clean it out with a wet towel.
6. Dry the headsets and fix the dry pads on your headsets
Place your pads on a dry and flat surface and cover it with a dry. Let it be in many hours or even days to air-dry entirely. To reinstall the pads, pull the band over the center of the headphones. Check the elastic surrounding the earphones is comfortable and that the cushions aren't shifting.
Tips to Maintain the headsets regularly
Clean the headsets with a gentle cotton cloth before wearing them every time. There's no need to take anything apart. When you're deep cleaning it, you'll need to remove parts.
Replace the cushions regularly if you feel uncomfortable or the cushions are worn out. Buy the right size cushions which fit you correctly.
3. Use a delicate cloth to apply a small amount of leather conditioner to the surface of your leather pads. Put your cleaned headphones in a dry spot to allow them to dry fully. It is advisable to use the leather conditioner twice a year.
Final Words
People spend most of their time playing games using gaming headsets. So, it is essential to buy the best headset for girls and boys, and also, it is important to maintain it regularly. You may get the idea of how to clean the headphone cushions. Now, it is in your hands to properly maintain the headset to last longer.