How To Clean A Yoga Mat And Disinfect It
January 28, 2022
2022-07-06 12:17
How To Clean A Yoga Mat And Disinfect It
How To Clean A Yoga Mat And Disinfect It
Do you wish to start your day refreshing? Then practicing yoga will be the best way. Yoga will relax your body and mind. In this pandemic situation, as per scientists, yoga helps to improve your immune. You feel energized the whole day, but yoga on the empty floor is not advisable. Buying a good-quality yoga mat is the best choice.
It is good to wash the yoga mat regularly. Many people just roll out their yoga mat and put it in place. The yoga mat will become dirty as a result of this because the yoga mat collects sweat, oils, and grime. You may observe black stains appearing on your mat after prolonged use, or it may begin to smell. 
It is necessary to clean it on a regular basis. Experts advise you to clean your yoga mat after every session. People were confused about how to clean a yoga mat. Here we have given easy steps to clean your yoga mat. It would help if you disinfected the yoga mat regularly. But there is no need to clean your yoga mat regularly. 
Note: Before you begin, double-check the cleaning instructions on your yoga mat. Some manufacturer's against using vinegar-based cleaning products. If you don't have access to your manufacturer's cleaning instructions, follow the steps below
How To Wash Yoga Mat
The stains on your yoga mat can be removed by washing them. Once every 2 weeks, experts recommend washing the yoga mat. 
Step 1: Make a warm mixture of soapy water. Use the quasi part of a sponge or a microfiber cloth to apply straight on your yoga mat. It might be easier to do this with your yoga mat spread out in the bathtub. Make a warm, soapy mixture of water.    
Step 2: Scrub the areas where you suspect there is more dirt. However, take care not to damage the foam. 
Step 3: Wash both sides carefully. 
Step 4: After washing, rinse the soapy water. Squeezing out the mat can cause it to tear.
Step 5: Allow your mat to air dry until it is completely dry, then roll it up and store it.
Do this process once every two weeks and keep your yoga mat clean.  
How to disinfect a yoga mat
Disinfecting a yoga mat once a week is advisable. If you wish to buy the best yoga mat cleaner, you can buy it and follow the instructions in the bottle. Suppose you wish to make the disinfectant solution at home. Follow the steps given in below. 
Step 1: Take an empty spray container combine white distilled vinegar, water & tea tree oil. To get the amounts perfect, combine equal parts water and vinegar, then sprinkle a splash of tea tree oil.
Step 2: Apply the spray on the first side of your yoga mat and Spray from approximately 8 inches away, top to bottom, to give the mat a moist appearance.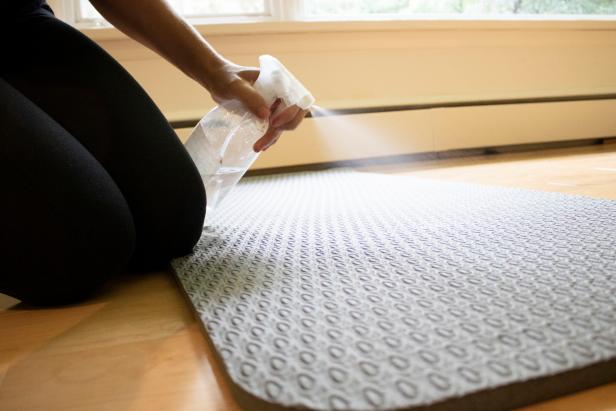 Step 3: Allow it to sit for two to three minutes, then wipe the solution with a microfiber towel in circular motions.
Step 4: If you plan to clean the yoga mat right away, you can either let it air dry or use a towel to dry it. Do it on the other side also. 
How To Maintain The Yoga Mat
Before each yoga class, clean your feet and hands.

After every yoga session, Clean the yoga mat with a baby wipe, a special yoga mat wipe, or a towel soaked with mild soap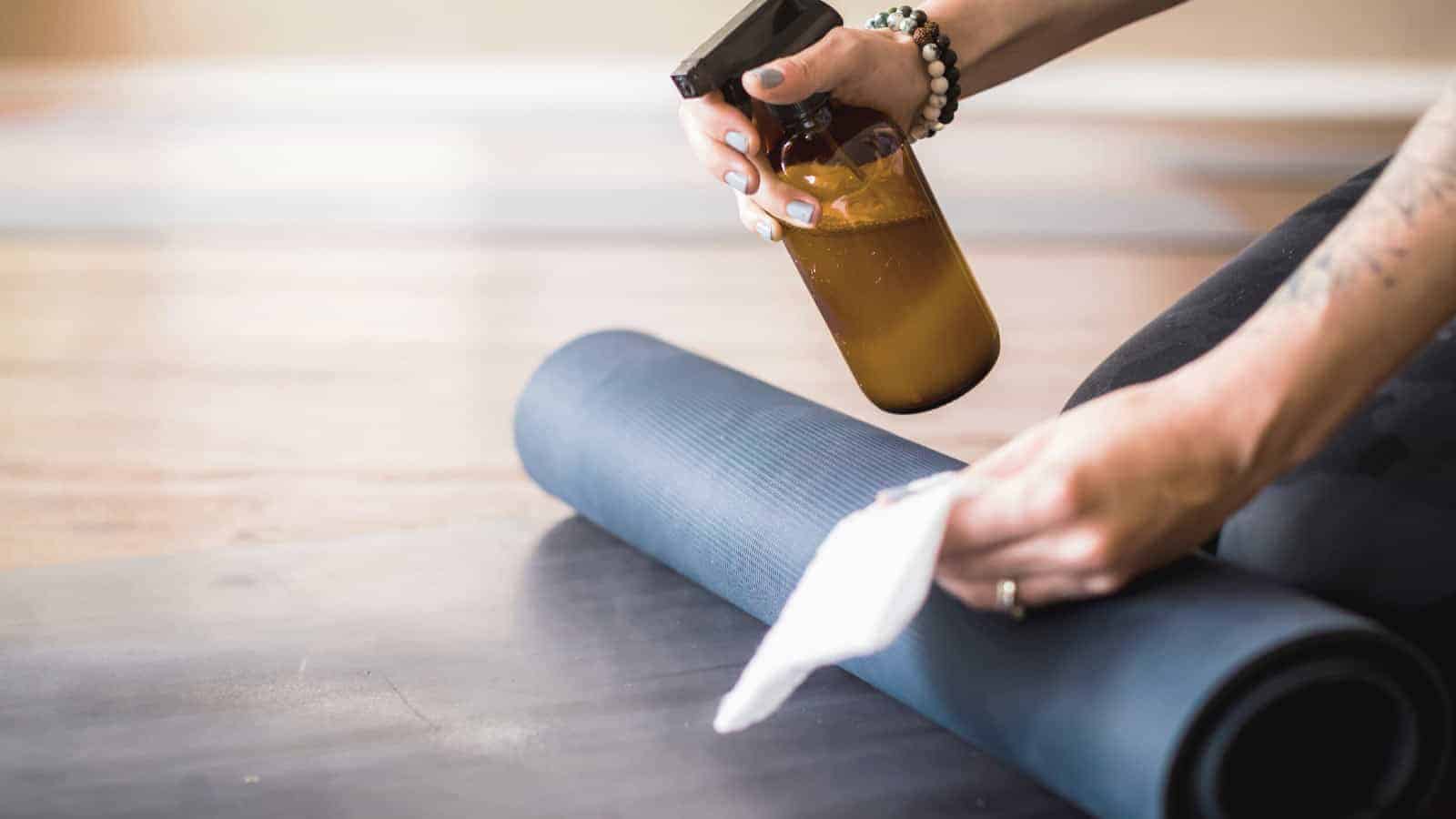 3. During practice, use a yoga towel on the yoga mat. 
4. Allow your yoga mat to air out on a regular basis can help evaporate any remaining sweat or moisture and maintain it smelling good.
Final Words
It is important to clean the yoga mat regularly so. we've provided instructions on cleaning and maintaining your yoga mat properly. Hope it is useful for you. Practice yoga regularly and have a healthy mind and body.