Best Ethnic Wear For A 6-Month Baby Boy
May 27, 2022
2022-05-30 8:33
Best Ethnic Wear For A 6-Month Baby Boy
Best Ethnic Wear For A 6-Month Baby Boy
"Tradition is the illusion of permanence", so why don't you style up your baby boy with traditional dresses. Children are lovely no matter what they wear, but you have to agree, if they wear traditional costumes, it's like cuteness overload, right? At the same time, your babies also enjoy wearing soft cotton dresses, and it's good for your baby's skin because the ethnic dresses were made with 100% pure organic cotton so that they won't harm your baby's skin.
Ethnic dress refers to the traditional Indian costumes worn by Indians. Indian traditional wear is admired for its glam, gorgeousness, and luxury, whereas Fashionable wear is more formal, with elegant cutbacks and high-end fashion. Fashion designers are currently combining these 2 types to create the latest hybrid wear dresses in various fabrics and designs. Hope you get an idea about ethnic clothes. Let's glance at the must-haves for various events and occasions that you should retain in your son's wardrobe.
What are the things that should consider in ethnic dresses?
Know the measurements
As we've previously indicated, knowing your baby's size is the first and most essential step in purchasing any dress. Always check the size chart since returning a lovely dress because it doesn't fit is a major disappointment.
Weight of the dress
It's yet another factor closely related to your child's comfort. Fabrics for children's clothing can be both light and heavy. You have the sort of material for your child throughout the event without being bothered.
Pay attention to fabric
Most ethnic dresses are made of a difficult fabric to wear for extended periods. If your baby wants to enjoy the moment rather than thinking about how quickly you can change back into comfortable clothes.
Comfort of the dress
As a parent, you will be delighted to see your child dressed in cultural attire. But, with all of this excitement, don't forget about your children's safety. When choosing a dress, consider the potential complications it may pose in the future. Allowing your children to try different outfits before choosing the final one is the greatest way to ensure comfort.
Ease of cleaning
When the party is over, the real work begins. After the event, you will have a lot of laundries. Cleaning the children's ethnic wear, especially if it is heavily embroidered, is challenging work for mothers. Some materials have a distinct feel and require particular washing. Please read the labels and cleaning instructions that came with the dress on cleaning it.
Multicultural occasions to wear traditional
Traditional dress refers to time-honoured outfits worn by forefathers and ancestors in India. Though clothing for your child may appear to be a difficult process, it is made much easier with easy-going kurtas and comfy pyjamas. Let's look at three occasions when you can dress your son up as a prince.
Weddings
Weddings are great occasions in India, and they are the best opportunity to wear ethnic wear. Nice ethnic clothing made of skin-friendly and comfy fabric in the latest fashion is all the rage for your tiny munchkin. A well-kept Kurta Pajama and Nehru Jacket would make him seem lovely at any wedding or other ceremony.
Festivals
Usually, dress your children in casual clothing. But nothing beats donning traditional clothing on auspicious days. Dress your children in comfortable outfits that do not restrict their mobility and help them stand out from the crowd.
Anniversary Party
You can dress your children up informal for their parents' anniversary party or someone else's. However, the special connection with donning an ethnic ensemble is unmatched by dazzling formals. A kurta, pyjama, and jacket are used to balance your son's outfit.
Best 10 ethnic dresses for a six-month boy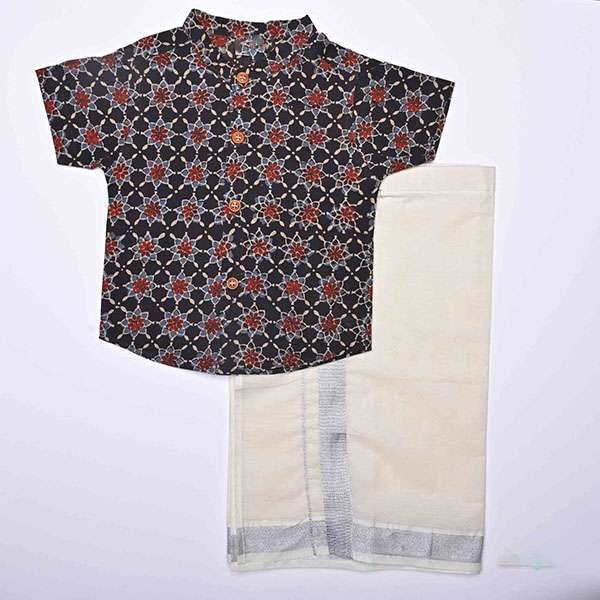 Black Shirt and Dhoti Combo
What comes to mind when you think about ethnic clothing for baby boys? Isn't it a dhoti? Why don't you get your little one a custom-fit Shirt and Dhoti? Indian ethnic wear is a part of the culture of Indians. This dress is what you've been looking for if you're seeking something incredibly simple with no complicated designs. The combination of white dhotis and matching shirts in elegant colours and designs will be a hit at any event. This combo is also breathable and easy to wear.
Dhoti is traditional Indian clothing. Dhoti wearers' styles and attitudes vary based on the state or area. Dhotis can be found in abundance at a variety of celebrations and activities. The word "dhoti" comes from the Hindu word "dhauta", and the dhoti was also regarded as a respectful and dignified garment. The most common hues for dhotis are white and cream. Cotton is used to make this fabric. It is commonly created with a gold border in most southern locations. Dhotis are usually made from 5-yard-long strands of cloth.
Cocoril Verdict 
The black shirt and dhoti combo have elegant colours and designs, which suit all babies. The material was so soft that it gives a super comfy to your baby.
Unique Features
Cotton that is GOTS certified organic

Breathable

Hypoallergenic

Simple to put on

It includes matching shirts and dhotis.
Specifications
Material: Organic Cotton Fabric
Design: Incredibly simple with no complicated designs
Occasions: Dhoti combo set, nice for various celebrations and activities.
When you think of a charming tiny baby tee, don't you think of bright colours, whimsical designs, and wonderfully soft material? Shirts are designed to provide comfort and endless entertainment. Shirts would become your little one perfect apparel for any event, whether it's for the first journey or the next. Let your imagination run wild as you dress up your adorable little models.
Baby's ethnic shirts are universally appealing. You can also dress them up with formal trousers or jeans. Shirts with ethnic or fusion designs have traditionally ruled the fashion industry. It comes with an attractive design, so it suits your baby very well. These shirts can boost your infant's flexibility and comfort level anytime, whether it's summer or winter. Ethnic shirts offer a touch of glitz to your baby's appearance. Also, it's soft and breathable so that you won't worry about the baby's comfy.
Cocoril Verdict 
We love the designs provided in this shirt, and it's a great piece for summer. The texture and softness of the cloth are good for the baby's skin.
Unique Features
The material is super-soft and breathable.

Quality stitching and a classic fit

The ideal present.

Durable and environmentally friendly material

It's appropriate for both everyday use and exceptional occasions.

Simple to put on
Specifications
Material: Pure cotton 
Design: Playful designs and prints
Occasions: Perfect apparel for any event and any activities.
When in doubt, go back to basics, and a dhoti is the basic, stylish appearance. The wonderful thing about Dhoti is that they allow you to combine traditional and modern designs. Dhoti is a white textile that Indians mostly wear. They can wear them in a variety of ways. Their dressing style is known as "koncha" fashion in West Bengal. People nowadays only utilize them on rare occasions. 
Everyone nowadays is preoccupied with their appearance. How can you anticipate that your children won't love their outfits if adults do? Kids enjoy dressing up and showing off their outfits. Dhoti for kids is one of the most stylish and charming Indian outfits. In this outfit, little boys seem charming. For boys, dhotis are ideal for festivals, events, and parties. This Dhoti would give comfort to your babies as well. They will love this outfit for sure. 
Cocoril Verdict 
The material was extra layered and ultra-soft, with a high absorption rate. The cloth is long-lasting and eco-friendly.
Unique Features
Genuinely handcrafted

Environmentally friendly product.

Easy to wear
Specifications
Material: Organic Cotton 
Design: Incredibly simple with no designs
Occasions: Dhoti is nice for a variety of celebrations and activities.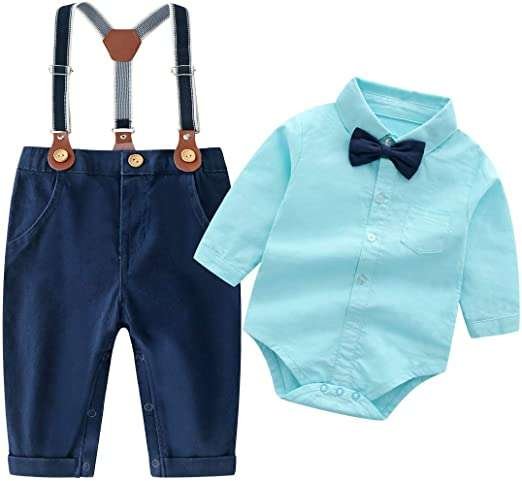 Long Sleeve Gentleman Outfits Set

This outfit includes a snap closure and tie. Bottom snap closures for quick diaper changes. A well-crafted and long-lasting gentlemen's suit made of cotton is delicate and kind on baby skin. Fashion Suit gentleman style, make your baby more handsome. It's a perfect suit for a very active child because the snap closure fits your baby's body. Dry on low heat or hang to dry. Ironing is not recommended, and bleach is not recommended for this dress.
Made of high-quality materials that are light in weight, soft, breathable, and comfortable for baby to wear, with a silky-smooth touch surface. The top has a long sleeve and turndown collar, tie embellishment, and a single-breasted front, and it is simple to put on and take off. Your boy will seem more fashionable in this suit. Also, you can dress up with this suit on any occasion, and it looks perfect for him.
Cocoril Verdict
In our view, this dress runs a little large for the small size. The fabric was a bit hard for a baby. Overall, it's a good fit and a lovely suit, but the top could use more flexibility, and the pants might be more machine-friendly.
Unique Features
A well-crafted and long-lasting gentlemen's suit 

Made of cotton that is delicate and kind on baby skin.

Good quality
Specifications
Material: Cotton and a small amount of spandex
Design: Comes with tie and snap closure
Occasions: Birthday parties, family gatherings, weddings, Easter, Christenings, and everyday wear.
Button Down Dress Shirt with Bowtie
This dress comes with an organic and breathable linen material of plaid button-up shirts is nice and smooth to wear. You can select between long and short sleeves. Also, baby onesies with a button-down design are easy to put on and take off. For a casual style, pair it with jeans and suspender pants for a formal or special occasion. Long-sleeve plaid shirts with cute little bow ties allow the baby to become more gentlemanly and fashionable.
The given closure type for this shirt is simple, making it easier for the infant to wear. A simple and comfy silhouette with a buttoned cuff is so casual that you can hold it in whatever style you want. With a shirt, the bow tie looks best. However, not every shirt is appropriate; also, It's cute for your little infant. The material was so elegant, and it's come up with 100% organic cotton so that it won't affect your baby's skin. The machine washes individually in cold water, just in a low setting, for simple care and management.
Cocoril Verdict
The colour was nice and incredibly thin. The fabric won't wrinkle so easily, so it's worth the price.
Unique Features
Environmentally friendly product.

Comes with a button closure

It gives a gentleman's style
Specification
Material: 100% cotton
Design: Long-sleeved plaid dress shirt with a sweet tiny bow tie
Occasions: St. Patrick's Day/Daily wear/Party/Photoshoots/Family celebrations/Birthday Parties/Formal uniform dress, etc.
With its fashionable and adorable style, it is ideal for various situations, including daily life, weddings, family gatherings, Easter, birthday parties, and so on. A wonderful present for your child. The material was polyester cotton, so it's the best choice to choose this suit for your cute infant. It's so affordable, and it comes with a one vest+, one pant+ one sleeve to give an elegant look to your baby.
At the time, it can fit your baby very nicely, and the is such comfortable and breathable fabric. The stitching was so good that it would last until your baby steps into one year. You can't wash this material in a machine better, you can wash it with a gentle hand wash so that the material will last forever. In these three-piece clothing sets, you can dress up your baby with sleeves and pants separately; otherwise, you can go with full suits if it's in your hand.
Cocoril Verdict
The quality was good and worth the price. The majority of the costume was light and breathable, and they felt silky and pleasant.
Unique features
Solid choice and affordable

It gives an elegant appearance
Specification
Material: Polyester, Cotton
Design: Button Closure
Occasions: Daily life, weddings, family gatherings, Easter, birthday parties, etc.
Boys Silk Embroidered Buta Dhoti Set
This one looks charming to your baby with the silk-blend embroidery kurta and 100% organic pyjamas. Kurta sets are available in various styles and fabrics, including cotton, silk, organza, and others. With the countless combinations that a kurta set can make when decorated or paired with other clothing products, like a pyjama, you can conceptualize the perfect traditional style for your boy.
If correctly done, a plain kurta can appear captivating and make your baby style and mix diverse ethnic outfits in various ways. The material was pure and soft, so your infant will love this outfit. Kurta-pyjamas are the most basic ensembles for clothing for your son, and they appear in so many various styles that you can find one for every occasion. You can't wash this material in a machine better; you can wash it with a gentle hand wash.
Cocoril Verdict
The fabric is so soft that it doesn't harm newborns. The dress's size may be big, so before purchasing this product, check the price chart.
Unique features
Great quality product

Kurta: Embroidery with Silk Blend 

Elastic closure
Specification
Material: 100% cotton
Design: Kurta: Plain kurta with a silk blend with embroidery
Occasions: Festivals and Weddings
Baby Boy' 5 Pcs Set Formal Tuxedo Suits
The material comes with 75% Polyester and 35% Cotton. The blazer, shirt, bow tie, vest, and pants are all included in this sophisticated 5-piece gentlemen suit set formal attire. It gives a pleasant look to your baby, and it's made with premium polyester and cotton fabric. It is designed as a single-breasted blazer coat with 1 button, padded shoulders, and 2 side pockets that are fully lined.
Also, a thick cotton vest with two buttons and two side pockets matches a white shirt with snap cuffs. Pants with a half adjustable waist for a comfortable and simple fit. It can wear on any occasion. This baby boy's 5-piece set gives a perfect fit for your child, and he looks so adorable in this outfit. You're going to love all the snaps with this outfit.
Cocoril Verdict
One of the cutest outfits for the price. It's an adorable dress of good quality.
Unique features
It gives a gentleman's style

Quality Stitching and a Classic Fit

Worth the price
Specification
Material: 75% Polyester and 35% Cotton
Design: The 5-piece formal male suit set contains a blazer, shirt, bow tie, vest, and pants.
Occasions: Many unique occasions
Formal Suit Gentleman Bowtie Romper
Gentlemen baptism tuxedo suit for baby boy, 3PCS. This outfit includes a romper with a bowtie and suspenders and shorts with adjustable elastic braces. You'll never be concerned about how to coordinate your adorable baby with this practical and easy clothing. Turn-down collar with three snaps at the neckline and three snaps at the crotch makes changing diapers for the baby a breeze. 
The bib pants feature two buttons on the bracing strap that allow you to modify the length for maximum comfort. The bow tie added a nice and elegant touch. Perfect for a summer party, festival, birthday, picture shoot, or everyday wear for your little kid. Beautiful baby gentleman suits overall clothes set made of the cotton mix, incredibly soft, breathable, and skin-friendly fabric, pleasant for greater protection of baby's delicate skin. This christening outfit enhances the beauty of your newborn.
Cocoril Verdict
It's sturdy, and they felt really at ease in it. We like the neutral colours also it comes with great quality.
Unique features
This dress is perfect for multi-purpose

Made up with a piece of excellent fabric.

The outfit is both practical and convenient.
Specification
Material: Overall clothing set made up of a cotton blend
Design: Turn-down collar with three snaps at the neckline and three snaps at the crotch, making changing baby's diapers a breeze.
Occasions: Multi-purpose uses.
Baby Boys Gentleman Outfits Suits
The suites include a onesie and one short overall with a bowtie and one suspender. It's appropriate for Baptisms, Pageants, Parties, Weddings, Churches, Cocktail Parties, and Birthdays and Spring and summer are the best seasons to visit. It contains buttons on the waist and button closures, making it easy to wear and change diapers. It's also a beautiful present for your adorable baby.
Made of cotton, it won't give rashes to his body, and smooth and kind on baby skin, this gentlemen's suit is well-made. It's also a long-lasting outfit to keep this outfit for a long. This dress is easy to put on and remove, so you need other bits of help. The buttons designed in this dress are so elegant.
Cocoril Verdict
Instead of merely having a changeable strap in the front, we wish the straps had one in the rear. The quality was so good and fitted perfectly.
Unique features
It's simple to put on and take off.

Change diapers without removing the trousers

Great quality product
Specification
Material: Spandex and 95% Cotton 
Design: It includes buttons on the waist and a button closing and is quite comfortable.
Occasions: Appropriate for Baptisms, Pageants, Parties, Weddings, Churches, Cocktail Parties, and Birthdays.

Tips for Washing Your Baby's Clothing Sets
The three procedures below will assist you in preserving your baby's garments clean and sanitary. Many first-time moms make the mistake of dressing their children in their clothes. Keep in mind that baby clothing is as fragile as your children's sand and requires special attention to maintain their health. Please scroll down to learn how to keep your tiny munchkins and their outfits in good health. 
Wash the clothes before first use
Because babies' skin is so delicate, you should take extra precautions when putting babies in new clothes. When you buy clothes for your infant, wash them thoroughly to ensure that no chemical traces remain.
Read the washing instructions thoroughly
Many garments come with instructions for proper cleaning and washing. Clothes that have been thoroughly cleaned and treated with care will last longer and retain their smoothness on your baby's skin.
Wash them in the correct way
Hand-washing your clothes is the most effective way to care for them. If you're washing them in the machine, use the gentle cycle. Because babies will continue to make messes, always use the proper cleaning solution on their clothing.
Correct product usage and storing methods
It is critical to manage kids' fragile clothing with care, so you should use the proper products. Choose from a big selection of eco-friendly and sustainable laundry detergent for kids to do your baby's laundry. Improper drying and storage can cause harm to clothes. You may either air dry them in the sun or use a linen bag. It will assist in keeping them clean and free of bacteria.
Advantages of Ethnic Wear for Baby Boy
Wearing ethnic clothing gives your child the feeling of being a true Indian.

Ethnic Sherwanis for boys are also popular and ideal for weddings and other formal occasions.

Traditional Dhoti-kurtas with accompanying sandals are both comfortable and stylish.

Dhoti-kurtas and matching sandals are stylish and comfy.

They are available online and are built with incredibly comfy fabric to make them easier to wear.

On your tiny darling's delicate skin, the clothing materials are assured to be rash-free.

Unlike western dresses, which are form-fitting and body-hugging, ethnic dresses are looser and extremely comfortable.
Frequently Asked Questions
Final words
Choosing the right attire for your child might be a time-consuming process. You, as a parent, will need to take extra patience and pay close attention when selecting children's outfits for your little star. When it comes to selecting children's clothing, several factors to consider.
The first point on the list that must not overlook is comfort. Ethnic attire is always in style for weddings and celebrations. You can also mix the new trends with classic outfits to give your baby's look a modern spin. I hope you got an idea about how to choose an ethnic dress for your six-month-old baby boy, so think twice and choose the best. Happy Purchasing!