10 Best Stuffed Animals for Baby to Sleep With
May 27, 2022
2022-06-30 12:00
10 Best Stuffed Animals for Baby to Sleep With
10 Best Stuffed Animals for Baby to Sleep With
"It's bedtime, baby!"… Every parent faces a difficult task in soothing their child at bedtime because they want a mother's cuddle at sleep. But, after all, moms can't always cuddle with their kids, can they? So we came up with the greatest solution for mom: a stuffed animal for the baby that is more soft and comfy, and provides the closest snuggle for babies when napping, just like a mom. 
As a parent, now is the time to select the best-stuffed animal for your baby to sleep with. Here are some of the most adorable, snuggliest, and safest stuffed animals we have found for your baby. 
Before we meet the stuffed animal, there is one thing we should know: the American Academy of Pediatrics (AAP) advises that babies can begin sleeping with comforters or soft toys once they are 12 months old. This is to avoid suffocation or strangulation while sleeping. 
Let's move on to the topic 
Top 10 Cute Stuffed Animals for Baby to Sleep with
GUND Toothpick Teddy Bear Stuffed Animal
Gund is a well-known stuffed toy brand with a global reputation for quality and creativity. The Gund Toothpick stuffed animal collection is adorable, and the Toothpick teddy bear is composed of a huggable and soft material. Another benefit of this plush animal is that it has a skinny neck, allowing the baby to hug it with their small arms easily. 
As a result, you can give this Gund Teddy Bear plush animal as a birthday gift for your child and an adult. The toothpick collections are ideal for babies aged one and up. 
This animal plush toy will also keep the infant busy and joyful. So, if you're a new parent who's having trouble deciding on a huggable soft teddy bear, then the Gund toothpick teddy bear stuffed animal is the perfect plush toy for your baby. It's slim body makes it easier for the toddler to carry the teddy bear around. They have superior embroidered characteristics to ensure the safety of the baby.
Henley Place Stuffed Animal Elephant Plush Toy
This elephant stuffed toy is a great companion for babies while they wander the house or travel. It has flexible legs and arms that make it easy to transport and store when not in use. This toy was created without harming any animals. Because these products are made from natural resources, bring this cute little animal into your home and have fun with it. This plush elephant toy is made of pillow-grade cotton and is perfect for babies to cuddle and snuggle.
This Henley animal plush toy makes anyone happy because of its tenderness. This adorable elephant is light enough for your child to tote around. The elephant's feet look like a snowball that can gently sit on the floor. The elephant's tusks and ears are white and constructed of extremely soft material, allowing the baby to grasp the toys with its comfortable ears. This elephant features plastic eyes, so keep an eye on your baby while playing, especially if they are teething. 
It's simple to clean and wash, and it's also machine-washable. The tusks and ears of the elephant give great fun for toddlers. The elephant's French fry tail improves the gripping sense of babies. 
Stuffed Animal Sloth Toy Ultra Soft
The next cuddling friend from Henley Place, this sloth toy is comfy and fluffy. It is the best gift for babies as well as adults. This small gift will bring a grin to any child's face. The toy's body is made of real angora plush, giving more cuddliness and softness, and the face of the animal is made of soft polyester. These smooth-finish plush toys are stuffed with pillow-grade cotton fiber, making them excellent for cuddling and snuggling. 
Both sides of the palm have removable fabric to hang your companion to anything, or you can also hang this stuffed animal in your kid's bedroom after cuddling with it. This plush toy is lightweight and compact, making it a fantastic companion for wandering around the house or travelling. This sloth is only 5 ounces in weight. This plush animal's arms and legs are flexible, making it easy to pack, so never miss your cuddling friend while you are traveling. You may cling it to any wall in your house, making it a decorative toy and a toy for playing and cuddling. Simple to wash and clean.  
GUND Baby Animated Flappy the Elephant Stuffed Animal
The Gund Animated Flappy Elephant will be the perfect sleep buddy for your child. It is great fun for the baby as well as for their bedtime. Pressing the toy's right foot will sing a lovely song with the cute child's voice and make its ears flap in time to the rhythm! To play an interactive game of peek-a-boo, press Flappy's left foot. Flappy hides behind his soft, big ears. 
It also contains volume controls, which you can use by pressing the foot for 3 seconds to increase or reduce the volume. GUND premium baby toys offer fantastic hands-on gifts, whether for nursery decor, a baby shower, a baby's first birthday, or any other event. This flappy stuffed animal keeps the baby busy and entertained. Because the power button is hidden and a safe is embroidered, you don't have to worry about the baby's safety. 
The two play modes help develop the baby's visual and hearing abilities.  This flappy elephant is made of high-quality material since the play, and sing mode is fun and entertaining for the infant. As a result, it's a wonderful playmate and bedtime buddy for your infant. 
Wild Republic Cuddlekin Three-Toed Sloth
Cuddle up with this lovely animal plush made of high-quality fabric, and it will provide hours of entertainment. These cuddly plush animals are superb children's toys for animal-themed birthday parties or as a gift for any occasion. These fluffy plush toys can also be used to decorate a child's room. This stuffed animal is made of high-quality fabrics and is designed to withstand continuous playtime. They are also easy to clean and machine washable. 
The Wild soft cuddlekins plush animal stimulates children's interest in wildlife and teaches them about the beauties of nature. This plush toy is 30 inches tall when standing and 20 inches tall when seated. This sloth has plastic eyes, so avoid giving strong face kisses with teething mouths. It is also very simple to clean; wash it in a pillowcase and lay it out to dry completely. The cute cuddlekins is made of high-quality fabric, and it is simple to clean. It is also a machine-washable toy and it stimulates the wildlife interest in your baby. 
Gemma Joy Bedtime Bunny Baby Sleep Soother
As a parent, you understand how tough it is to keep a baby calm during the night, especially a newborn or young toddler. We came up with a charming bunny sleep soother that would be the ideal buddy for your toddler while mom is busy or unavailable. When young newborns and growing toddlers take quick naps, travel long distances, or lie down on the bed, this cute animal will be the best cuddle buddy. They're also plush, squeezable, and incredibly cuddly, so your little king or queen can get a comfortable cuddle when they need it. Six sleeping noises are included in the Bedtime Bunny baby sound soother. 
The sound of a mother's heartbeat calms and relaxes youngsters in the womb, so they include a mother's heartbeat to let them find normalcy. Every squeezable bunny also comes with a gentle shining red light that may be used as a nightlight or to soothe them if they wake up in the night. This bunny comes with AA batteries that provide a longer battery life, allowing your child to play with it for hours. It makes a sound similar to a mother's heartbeat.
GUND Randle Bernese Mountain Dog Stuffed Animal
The Gund Randle Dog Stuffed Animal is designed to seem like a real puppy and will quickly become your child's closest buddy. This cuddly soft dog is composed of high-quality materials, ensuring that it will be a loving companion for many years to come. This 13″ bedtime stuffed animal has the eyes and paws of a real puppy and will make a wonderful gift for babies aged one and up. 
It is made of washable surface material, so your child won't have to wait for the toy to dry in the sun. Premium materials are used to create this stuffed toy that is unbelievably smooth and huggable, so it creates a big smile on the baby's face.  
This product attracts babies and adults because of its softness and cuddliness. It will be the perfect buddy for the baby's travels and playtime, not just for sleep. Because it is lightweight, toddlers may take it with them everywhere. It has the exact hue of a real puppy and is constructed of washable surface material so that it won't interfere with your baby's fun. 
PREFERRED Kids Hare Bean Bag Stuffed Animal
If you're looking for the cheapest stuffed animal for your children, the Preferred Hare stuffed an animal is a great option. This 9-inch soft beanbag is the ideal size for kids to carry, hug, and love. It's made of soft material and features a patch that writes, "I love you to the moon and back." This hare is adored by boys and girls of all ages, suitable for newborns and up. You won't have to worry about your baby's safety when cuddling because it's constructed of superior, gentle fabric on their delicate skin. 
This cute hare bean is machine washable and has plastic eyes, so keep an eye on it when your teething child plays with it. The hare bean is 9 inches tall, so it will be a good traveling companion for your toddler. Even though it is a low-cost stuffed animal, it is high-quality fabric, like the more expensive items.
DEMDACO Giving Bear Stuffed Animal Toy
Soothing a baby is now a simple effort for parents who have purchased a Demdaco bear stuffed animal toy. This charming companion stands 16 inches tall and 12 inches tall when sitting. Because the stuffed toy is small, holding it or snuggling it will be a simple task for the child. This bear stuffed animal should only be spot-cleaned to keep their huggability. This cuddling companion never leaves you feeling lonely, and its softness brings a smile to your face. 
It conveys a positive message to provide positive vibes: "Sometimes you can feel so small in a great big world. Sometimes you might feel like a giant who can climb a beanstalk. However you are feeling, I want you to know how important YOU are. Whenever you need comfort, a little safe, a little brave, just whisper in my ear and hold me tight. I'll be here for you."
It comes with contrasting corduroy ears, which shows he is a good listener. So you can share your memories with its cute ears. It's made of high-quality fabric that gives babies and adults an ultimate hug. It gives a positive message, and its softness makes anyone pleased. To create the floppy body, it is lightly stuffed.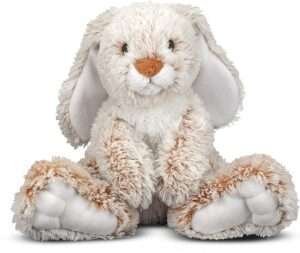 Melissa & Doug Burrow Bunny Rabbit Stuffed Animal
The last stuffed animal we will discuss is the Melissa and Doug burrow bunny stuffed animal. It includes floppy ears, which designs with extra soft plush that makes stuffed toys like a real bunny. The materials used to make this plush bunny stuffed animal toy are the highest quality. It's both huggable and sturdy, thanks to the soft polyester fabric. 
This rabbit toy provides a range of fun activities for children. When the youngster is napping, they can snuggle with it, and it can also be their greatest buddy when they are playing. This plush animal is a fun and cuddly present for children aged three and up. To balance off the hands-on play experience, add the Stuffed Animal to give kids additional interesting choices for screen-free fun. 
This fluffy bunny fabric is surface washable. Because of its softness and cuddliness, this bunny will become a dear buddy. It's appealing, and the floppy ears add to the fun. It's also constructed of extra soft fabric, which offers babies a nice feeling when they hold it.
Tips for Choosing a Safe Stuffed Animal for Babies and Toddlers
The greatest plush animals for newborns and toddlers are super cute and extremely safe. When purchasing plush animals, keep the following toy safety issues in mind.

Check the toys part:
For small kids, plush toys with plastic eyes and long threads might be a source of danger. If possible, choose stuffed animals with stitched eyes, and inspect the toy for any loose pieces before giving it to the baby. 
Well-made stuffed animals:
Even the most energetic toddler activities will be able to survive good-quality stuffed animals. Search for toys that can be machine washed, and make sure the stitches and corners are tight, so the stuffing doesn't fall out during play.
Child's Age : 
Carefully check the product's age requirements to ensure the item is appropriate for your children's stage of development.
There are plenty of stuffed animals ready to be loved, whether you're decorating the playroom or searching for the perfect baby shower gift. Look for stuffed animals that can be washed and created from organic materials, which are ideal for new newborns. Stuffed animals can help your baby learn to self-soothe and engage in imaginative play, so don't be afraid to get more than one for your little one.