Best Office Projector for Presentation – 2022 Updated List
November 2, 2021
2022-07-06 11:29
Best Office Projector for Presentation – 2022 Updated List
Best Office Projector for Presentation – 2022 Updated List
The projector is the most common electronic device used in the business industry for presentations. In earlier days, presentations were made on charts and if there is any mistake, the entire work is worthless thus you've to draw a new one. It was a tedious job for the employees. Presenting that small chart to a big crowd audience is also very tough.
But the latest technology has made this toughest work easier with the help of computers and projectors. Presentations are made on the computer and are presented to the audience using projectors.
Nowadays all the business presentations are done only using projectors. It is really vibrant and bright and so you can keep the audience engaged for a long time.

Whether it is a small presentation or a big one doesn't matter, a projector is a must-have device in any office today. So that you can show crisp data-centric presentations at your business meetings clearly and confidently with ease of use. Not only for meetings it is also ideal for smart teaching in the classroom.
You can also use it as an alternative source to television for huge gatherings. They are cheaper and offer bigger pictures than TV. Therefore, projectors have a lot of uses and have been developed by many manufacturers with their signature features.
Among those hundreds and hundreds of models in the market, finding the best projector for your office is a very tough task. But don't worry, we are here to help you. We've researched plenty of models and listed only the top 10 best projectors in India for presentations. Just scroll down and have a look at it.
10 Best Projectors for Office – Reviewed
1. ViewSonic M1+ Portable Smart Wi-Fi Projector
The top-ranked product on our list is the Viewsonic M1+ projector. It is a small, portable projector equipped with 1080p Full HD resolution. It is affordable and can be used by anyone. It would be very special for first-time buyers, as they would expect more than the traditional TV setup. And this Viewsonic M1+ projector will satisfy their expectations.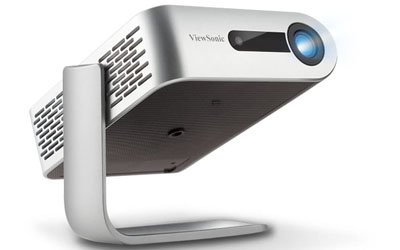 Design
An interesting feature that first attracts the buyer is its size. It is designed to fit the size of a palm thus it can be holded easily in your hands. Also, it weighs just 1.7 pounds which makes portability easier. The 360-degree rotating stand in the projector helps it to place anywhere you wish. It can be folded up to protect the lens from damage. 
Image Quality
Viewsonic M1+ projector is on the top line when it comes to image quality. It shows impressive, crisp, distortion-free images in dark environments. 
Audio
The audio quality is extraordinary in this Viewsonic M1+ projector. So it does not require additional speakers unless you need something on the higher end. As a built-in unit, it is more sufficient to provide maximum audio, with great volume, bass, and crisp clarity to the entire living hall. 
Battery
The battery in the M1+ projector can work continuously for up to 6 hours in one full charge. It has an inbuilt battery indicator that indicates when the battery goes down. So you can charge it before the battery goes dead.  
In addition, it also has an auto-blank feature that cuts the projection beam when any objects are detected less than 30 cm to the lens. 
2. ViewSonic PA503S-3600 Lumens Projector
Viewsonic has also secured the runner-up position on our list of best projectors. The Viewsonic PA503S is another best option for new buyers. With its basic setup and price point, the Viewsonic projector is ideal for classrooms.
Light Source
Lamp life is the most important aspect of a projector. The Viewsonic PA503S has 4,500 hours of lamp life in standard mode and it is increased to 15,000 hours in eco mode. Therefore, it will be a permanent addition to your classroom or conference room.
Easy to Use
The ViewSonic PA503S projector is quite easy to use and doesn't require much calibration or set-up.  And so it would be a great plug-and-play device that offers more comfort with technology. 
It comes with a small remote having an eight-button control option, which is easy for you to access. In addition, it also offers a variety of connectivity options to make your work much easier. 
SuperColor Technology
This projector is designed with SuperColor technology that offers Viewsonic's exclusive color system. So that the projectors consistently produce images with high quality. It replicates the natural color without hyperpigmentation. Therefore, you can see dynamic, vibrant, true-to-life pictures all the time.
Overall, the Viewsonic PA503S projector would be the best option for those who want a fantastic home theatre experience, as it has all the features needed for it.
3. Everycom X7 LED projector

The next product on our list is from Everycom. It is one of the best sellers in the Indian market. Everycom offers all its products on a limited budget but with super quality and the best features. The X7 LED projector of Everycom provides you with detailed audio and video so that you'll have a cinematic experience at your home. 
Built-in Speakers
It comes with built-in audio speakers that offer crystal clear, balanced sound to the needs of the users. The 3.5 mm headphone jack allows you to connect with external speakers.
Big Screen 
It is lightweight and can be carried easily to any place. The 120-inch screen size is an added benefit to this projector. So you can have great entertainment at your homes with this projector. It is an ideal choice for movie enthusiasts. 
Lamp Life
The Everycom X7 projector is featured with 1800 lumens brightness, which displays sharp and clear images to make your entertainment more enjoyable. It has a lamp life of up to 20,000 which is very high compared to other projectors in the market. It is a one-time investment and can last for several years. Also, it does not require much maintenance. 
Easy Installation
This X7 projector is very easy to install, you can fix it easily without any professional help. Also, it can be mounted on the ceiling, table, or camera tripod.
4. BenQ 1080p DLP Business Projector
When it comes to projectors for business presentations, the BenQM73 is the best series to go. This BenQ MH733 model is on top of the line, defeating all other BenQ series. It proves its dominance and functionality at its price. It is one of our favorites on the list of best projectors. 
Not all the BenQ series are the same in their features. The only common thing on all the BenQ projectors is the powerful 10W speaker. It has long hours of lamp life and a good contrast ratio.
Image Quality
This BenQ projector comes with 4000 ANSI lumens to provide brightness while viewing in daylight. This is a significant feature of this projector. Also, it stands out for its incredible image quality with a 1080p resolution. The images are quite natural and crystal clear. 
Corner Fit option
An interesting feature in this BenQ MH733 series is the Corner Fit feature. Its main role is to measure the corners of the screen precisely and adjust the image size accordingly. And it does this function within a few seconds. 
Unique Feature
Thanks to BenQ for inserting the 'Eco' mode feature in this projector. It reduces the overall brightness of the projector to increase the battery life. Multiple screen presentations are also possible with this projector, as it has a unique BenQ Multiple Display software.
5. Epson EB-E01
We all know that Epson is the most popular brand in the Indian market when it comes to printers. But do you know it also produces good quality projectors similar to the printers? 
Their projectors have been in the Indian market since 1942 and they are still manufacturing projectors with unique features to reach the height. The Epson EB-E01 XGA projector is one of the best models from them. It has a range of features to suit your needs whether for classroom or business presentations.
Construction
The Epson EB-E01 XGA Projector is the best choice for classroom projection as it has a wall-mount feature that is comfortable for classroom placements. It is also ideal for movie streaming or gaming at your home. 
Image Quality
The XGA is a 4K projector built with a high resolution of 4096×2160 pixels. It would be an ideal choice for those looking for ultra-high-definition image quality. It also ensures that there is no overlapping and so you can get a flawless cinematic experience.
Advanced Technology
It boasts advanced 3LCD technology that delivers vibrant, ultra-bright, true-to-life images. It is designed specifically for classrooms with 3300-lumen brightness, stereo speakers, and HDMI connectivity to enrich the lesson plans. Thanks for the 3300 lumens brightness. It is incredibly bright and adds value to your presentations. 
Long Lasting
Epson has built this projector with high-quality materials to last over several years. Also, it is provided with 12,000 hours of long lamp life in ECO mode. Convenient installation and flexible positioning make it easy for projection anywhere in the room. Overall, this Epson XGA projector bangs your buck.
6. ViewSonic PA503X -3800 Lumens XGA Projector
This is the third product from Viewsonic on our list. Viewsonic is one of the oldest brands having over 30 years of experience. It gives amazing visual solutions which makes it win the crowd. And it provides a level of expertise that is tough to beat.
With flexible connectivity options and advanced audio-visual features, the Viewsonic PA503X projector is ideal for small business environments and smart learning.
SuperColor Technology
The PA503X projector is made with ViewSonic's SuperColor Technology that has a dynamic lamp control and exclusive 6-segment color wheel design to provide stunning image quality with a wide range of colors.
It also supports 3,600 lumens brightness and a high contrast ratio to produce bright images in any environment.
Long Lamp Life
To give a long lamp life, Viewsonic has created a SuperEco mode in this projector. It allows you to dim the projection brightness to extend the lamp life up to 15,000 hours. But the lamp life may also vary according to the usage and other factors. 
This Viewsonic PA503X projector is equipped with the latest HDMI connectivity that connects other devices and delivers 3D images directly from the Blu-ray players. Further, it comes with an ultra-low input latency that provides clear images quickly without any delay. It is mainly due to the faster frame-by-frame action. 
Keystone Correction
The keystone correction in the projector is responsible for providing distortion-free images every time. Here, Viewsonic has made a vertical keystone correction of +/- 40°, which helps to eliminate distorted and crooked images. So you will get perfectly proportioned images all the time.
7. EGate i9 Pro-Max Full HD 1080p Modulated
The next product on our list is the Egate i9 Pro projector. EGate is an ISO 9001:2008 rated Indian company with BIS certification. It delivers a good quality projector for office use and other recreational purposes.
Key Features
The main features of the i9 series are its resolution, brightness, and display. It offers 1280×720 pixels HD resolution to give you crispier image quality. It has a large screen size of 150 inches to give a cinematic experience. And it can be operated at a distance of 16 feet. 
Brightness
Also, the EGate i9 projector is provided with a brightness of 2400 lumens and a 1500:1 contrast ratio to deliver bright, vivid images. So you can watch your favorite movie on a big, theater-like screen at the leisure of your home. The inbuilt speakers produce excellent sound in a closed environment, but it is not good for an open environment. 
Lamp Life
The lamp life is the most admiring feature of the EGate i9 projector. It provides a long lamp life of 30,000 hours. It also offers Wi-Fi connectivity that allows you to connect it with a smartphone, tablet, or laptop.

Overall, the EGate i9 is a versatile, mini portable HD projector that effectively reduces the need for a PC or TV.
8. PLAY 3D 4K DLP Ultra HD Smart Android 6 Portable Mini Projector
The Play New 3D 4K HD projector is a high-end device that costs very high. If you want to get a luxurious cinematic experience, without considering the budget, then you can simply get this projector.
Construction
It is a premium projector built with high-quality materials that can last for longer periods. And the sleek black build ensures that heat is dispensed through the ventilation ducts. Also, this lightweight projector is supported by Android and provides hassle-free operation. Therefore, it is ideal for business meetings, smart classrooms as well.
Image Quality
This Play New 3D 4K projector is quite different from other branded projectors. It is featured with a brightness of 7,500 lumens that produces incredibly bright, vibrant images with natural colors. The large screen display gives you a theater-like experience while watching movies. 
Lamp Life
It uses an LED light source which gives a long life of up to 50,000 hours. It is significantly lighter and can be mounted anywhere in the ceiling with ease. Also, this Play New 3D 4K projector is Wi-Fi enabled and so you can surf through the internet to watch movies, videos online or do your presentation clearly and perfectly. 
Overall, this Play New 3D 4K projector is really worth the money.
9. Play Ultra HD 4K Smart 3D Laser Projector
If you're looking for the best laser projector, then this is for you. The Play Ultra HD 4k projector is the only laser projector included in our list. Laser projectors are a smart alternative to conventional lamp projectors. As it is a laser, this projector is quite expensive than the LED or lamp projectors. It is a perfect choice for commercial use.
Image Quality
This Play Ultra HD laser projector comes with a wide range of colors and provides crisp, bright images. The 7100 lumens brightness ensures an extraordinary cinematic experience. It increases production efficiency through its easy operation and quick connectivity. Therefore, it is perfect for all purposes ( Commercial, residential, and educational purposes).
Resolution
This high-end projector has a full HD 4K resolution that brings exceptional experience beyond your imagination. With a 1,00,000:1 contrast ratio and laser projection technology, it delivers incredibly high image quality that makes it unique from other projectors.
Easy to Install
This Play Ultra HD projector can be mounted on any surface with no one's help. It fits anywhere on the wall, ceiling, and can also be mounted on tripods. Not only installation, it is also very easy to operate. Even first-time buyers can handle this without others' help. 
Lamp Life
This laser projector is built with a long lamp life of 50,000 hours, which is a great feature in projectors. Also, it can display images as big as 50-250 inches screen size. So that you'll feel like you're in a theater. It also supports Wi-Fi, Bluetooth, and HDMI to connect other devices. It is an added benefit to this projector. 
Overall, it is the best projector for residential and office use. Also, it adds a good value for the money you spend.
10. BORSSO Mars 10 with 6500 (ANSI 650) Lumens Projector
The final product in our list of best projectors for the office is the Borsso HD Wi-Fi LED projector. Though it is in tenth position, it doesn't mean that it is not a good projector. Based on our testing it has secured the final position compared to other products. It is best suited for homes, medium-sized classrooms, and small offices.
Image Quality
The Borsso smart LED projector is featured with a brightness of 3,000 lumens, which gives crystal clear, true-to-life images. This is very good for school education and gives a lot of entertainment at your home. The full HD 1280×800 pixels resolution gives you high-definition images with much clarity.
Lamp Life
Further, this LED projector has a long lamp life of 30,000+ hours which is very high compared to other branded models. And so it can last for longer periods. It also provides clear projection and the big screen size of 200 inches gives you more comfort to have a theater-like experience at home. 
Connectivity Options
The quick connectivity option of this projector makes your official presentations hassle-free. In addition, it has a manual keystone correction mechanism, which is not acceptable for many people. 
The smart LED projection technology allows you access to youtube through wifi connectivity. 
Easy to Install
Installation is also very simple with this projector. It can be mounted anywhere on the ceiling or the wall and does not require professional help.
How to Set up a Projector?
A projector is a very important thing for office presentations. However, it is crucial to know how to set up the projector perfectly. And if you're doing it for the first time, don't worry, we will help you know the methods of setup easily with a step-by-step guide. Just go through it.
Step 1:
First research and find the right projector for your office. Ensure resolution, brightness, and other factors while purchasing a projector.
Step 2:
After buying the projector, the next step is where to install the projector?
Checking the projection distance and height of the projector is the second step of setting.
Step 3:
Set up the screen to make your presentation clear with high-quality images.
Step 4:
Connect the projector with your PC or laptop. This connectivity option is not applicable to all projectors. So choose your projector that has wireless connectivity. So you can connect your laptop properly. If you find any issues in connection, then refer to the user manual.
Step 5:
After connecting the projector with your laptop, check a sample projection to know whether all the settings are done perfectly. So if you notice any focus issues, then you can fix them before your presentation starts.
Step 6:
Now you're ready for the presentation with all the things done correctly.
Conclusion
If you are looking for a good, reliable projector for office use, especially presentations, then the above-listed options are worthy to hold a special place in your cart.
We hope that you have got some idea in buying the right projector for your office presentation.
A good quality projector will be efficient, consistent, and speedy in delivering bright images. High-end projectors will have admirable features but will not hit your wallet, as they are much expensive. So first decide your budget and then go for buying the best projector for your presentations.