Best 10 Over-ear Wireless Headphones of 2022
December 31, 2021
2022-03-14 10:12
Best 10 Over-ear Wireless Headphones of 2022
Best 10 Over-ear Wireless Headphones of 2022
We wear headphones every day, whether we're listening to music, gaming, or conversing on the phone, or whenever we need to hear sounds loudly and clearly without being distracted. Nowadays, headphones are an essential gadget in our day-to-day life. There is also some Profession working with over-ear headphones. You don't want to know about the mysterious device, do you? Let's see a simple intro about Headphones.
Instead of replacing telephone receivers,  they found the headphones in 1891. In 1894 headphones were used for multimedia purposes. After some years back in 1910, an American engineer named  Nathanial Baldwin invented modern headphones. The new gadget is compact and supported by all the devices. He planned to give these headphones to his American army.
In 1958, John Koss invented the advanced model of headphones with stereo technology with a customizable effect. The founded one is the Perfect stereo headphones. And then 1979, the sony brand introduced the walkman. It reduces the size of the media player and reduces headphones' dimension, and they named it earphones. Types of Headphones are earphones, in-ear, over-head, Neckband, wireless, and truly wireless.
There are numerous over-ear headphones brands available now that offer excellent sound quality, bass performance, and noise isolation. Now you got the small about headphones. I'm going to make a list of the top ten sounding headphones in the world.
Best buy Over-ear Headphones 2022
1. Sony WH-1000 XM4 Wireless Over-ear Headphones
Sony is the ultimate cool-looking headphones brand in the world market. Sony is an intelligent headphone with a mic and Alexa voice control. The sony is the best pair of headphones with good sound quality and feels comfortable while wearing it for hours.
The highlighting feature is ambient sound control, which can help hearing sounds around us. And the other one is speak-to-chat, which will pause the music when we start to speak. The noise-canceling feature in Sony reduces enough background noise to experience the pleasant feel of the music.
ANC cancels out the vehicular traffic sounds. You can change the ANC settings via the Sony ANC app. The battery life of Sony is 30 hours. Voice clarity on both ends is outstanding. The touch sensor control allows to pause/play voice, control volume, and answer phone calls. The sony XM4 can pair two Bluetooth devices at the same time. The carry-case cable is durable and a cable for wired listening. Sony XM4 is the best noise-canceling headphones to buy.
2. Bose Noise canceling Wireless Headphones 700
Bose is a need for music lovers and a must for those who want quiet in a busy world. For decades, Bose has been the father of premium sound, so you're getting the finest of the best. The noise-canceling is good, the design is stylish, and the sound is good. Using the microphone/calling setup is one of the good aspects.
You are not receiving any distortion from playing music because of the noise-canceling feature. The touch panel on the speaker is quick. It didn't take long to know how to use it because Bose provides a simple layout using the touch features. One highlight of these headphones is the voice speaking system. You're getting eight individual microphones. Six are for the noise canceling, and the last two are for your voice. Bose is the best Over-ear headphones with a mic.
The app is very customizable to these headphones. For example, on the app, it will not only tell an accurate battery lifetime frame, but you can make the headphones shut off automatically if they're not in use within a specific time frame that you created. In addition, the charging on these headphones is quick.
3.  IJoy Matte Wireless Over-ear Headphones

Do you looking for a decent set of headphones to listen to music, watch films, or play online games with? Have you tried similar stuff only to be disappointed with how cheap they were and how rapidly they quit functioning? Do you choose a pair of headphones that are long-lasting, massive, and don't surpass a month's salary? If that's the case, today's the happy day I-Joy has what you're glance.
These headphones are specially designed and suited for everyday usage, and they are made of top-grade quality components. You can Play your favorite Computer games, relax and listen to your favorite music, or view the newest blockbusters in flawless HQ audio quality from the comfort of home.
The memory protein muffs keep them in place on the forehead without harming the ears, and the customizable headband ensures that they fit correctly. In contrast, the interior of the headbands has a smooth, tight pad that gives total security and unparalleled pleasure. Furthermore, the headphones are flexible enough to meet all head types while not being too free to slip down.
4. Tuinyo Wireless Over-ear Bluetooth Headphones
All Bluetooth or 3.5mm socket cord-capable devices, such as wise android, pads, laptops, tablets, MP3/4 players, computers, MacBooks, and other Bluetooth enabled, are accessible with Tuinyo Bluetooth Headphones. Easily slide the off/on button to put the headphones in pairing mode. Because of the noise-canceling technology, it's meant to provide fast and reliable wireless connectivity and hands-free conversation.
The foam leather earmuff mirrors the feel of the skin surface, offering long-lasting strength and durability. The folding and flexible construction gives you the freedom to pick the correct fit. It also comes with a Luxury Cover to safeguard it from damage. Tuinyo is the best option for people of all ages who want to travel, participate in sports, and live a regular life.
The Tiny High Definition Mono Headset delivers excellent sound quality and vocal clarity. Featuring rich lower frequencies and clean bass, it also is suitable for a games console, Xbox, Computer games, sports, or Television (Bluetooth headphone). It's perfect for audiophiles and gamers.
5. Bowers & Wilkins PX7 Over-ear Wireless Bluetooth Headphones
The sound quality is just phenomenal, and the build quality is so much better than both the Sony and bose. The headphones' app is a little simple, with only a few basic settings such as noise-canceling, ambient noise, and that's about it. However, there's a great little feature on these in which, when you take the headphones off or lift an ear cup, it pauses the music, and when you place it back on your head or ear, the music starts playing again.
The earpads and headband under the portion seem to be a high-quality fabric that is very soft to the touch. The best open-back headphones are having a quick conversation or listening for announcements without taking the headphones off. They have a 30-hour battery life with a 5-hour playtime after only 15 mins of charging via USB-C.
The microphone for calls is excellent and should not be problematic unless you are in a noisy environment. When the flight mode is enabled, it reduces noise by sacrificing sound quality. The ANC struggled to block out noises from buses, trains, and airlines when set to office mode, thereby defeating its purpose as a noise-canceling headphone.
6. Philips Hybrid Over-ear Headphones
Have you been seeking top-quality noise-canceling headphones for a while? The Dual ANC function does an excellent job of eliminating fan noise and offers a pleasant noise-canceling effect. Awareness mode offers the appropriate amount of ambient sound balancing, not unnecessarily magnifying whispers like some high-end ANC headphones. Philips is the most acceptable partner for listening. 
This headphone's touchpad is a dream to use! H9505 is a Philips product. It is built with premium materials and has a solid construction and a great design.
I like them so much that I kept them and purchased a camera with a built-in microphone for making calls. These headphones are fabulous for listening, but if you need the mic to function with a Mac through Bluetooth, you'll have to look for another option. 
7. Sennheiser Momentum 3 Wireless Noise canceling Headphones
The drivers in the Momentum 3 have increased in size, allowing them to be more powerful and deliver a better higher quality sound. The build quality has gotten some tweaks and uses original sheepskin leather. They feature a clever pause to music when you take them off and an auto shut off feature when you fold them. The ear-pads opening is generous and allows my ears to go in.
When turning on the headphones, it will announce simultaneous connections to up to two Bluetooth sources. The best Sennheiser closed-back headphones provide touch control configurations.
The Sennheiser's can also fold, but not flat. Sennheiser's carrying case is about twice the thickness of the Bose, and it's not a hard shell material, so the Sennheiser's face a higher chance of crush damage while in your bag. After installing the app and syncing, it needed a firmware update that took 20 minutes. Then, the only way I could sync was to unpair the Bluetooth from my phone, uninstall the app, reinstall the app, and re-sync. If you want 5 Bluetooth connections, fantastic sound, good ANC and range, a good battery, and a classic appearance, this is the Bluetooth headset for you.
8. Zihnic Foldable Wireless Headphones
The rose gold Matt texture color is quite stunning, in my opinion. Certainly, feminine color and gives a rich look. The storing case, which resembles a shell, provides enough protection but is heavy.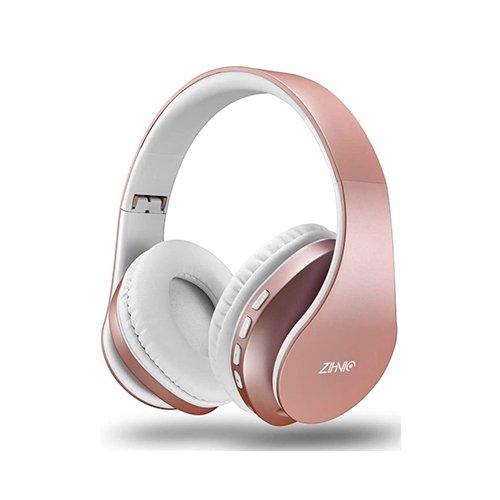 The headphones are customizable and come with powered-up options, so I can put them to use right away. I turned it on, and pairing those with the phone was a snap. I pressed the Wi-Fi switch, and the headphones appeared immediately. The material is silky and pleasant, and the ear padding is gorgeous and sensitive. There is a lot of sponge cushioning.  They also did an excellent job of covering the ears.
When I turned up the volume, though, the music was crystal clear with no distortions.  Each component, rhythm, and lyrics are distinct, and the genuine stereo impact is also present. The noise-canceling function is superb; nothing else from the external world sneaks in. When you shut your eyes and listen to some music, you'll have an exciting experience. The battery capacity is excellent; I went a whole week without recharging those. Unless you want to attach them to your phone, these headphones come with a dual jack wire.
9. New Microsoft Surface Headphones 2
Microsoft is a well-known brand in the world market. These are so highly defined headphones. The sound on these is crystal clear, and the person on the other end confirmed that it was as well. These headphones are lighter in weight than other name-brand headphones in the same price category.
If you're a working professional who spends a lot of time on conference calls, these headphones are a good match for your laptop or tablet. The headphone's control panels are simple to operate, and the battery lasts up to 20 hours.
The best sound quality headphones provide almost three full workdays of charge. The best thing is that it has unsurpassed connectivity connects with two devices at the same time, and you can be working on your laptop, and receiving a call from your cell phone works automatically.
10. Urbanista Miami Wireless Over-ear Bluetooth Headphones
The Active Noise Canceling (ANC) feature is good, and it also has an ambient sound option to soften the noise-canceling effect, which is ideal for office use. An on-ear detecting gadget pauses the audio/video when one or both of the headphones are removed from your ear. The cool-looking headphones are very comfortable and look great. The build quality is good as well. Instead of skipping over a button with your finger and constantly pressing the power button to adjust volumes, skip buttons so you can identify when you're at least by a control.
The battery has a 50-hour life span, and there is an audible low battery alert. The charger is only a few inches long. The difference between volume and play/pause buttons is just by feeling them while wearing these.
The best over-ear headphone comes with a microphone cord and jerk. Also, Urbanista comes with a carrying case for travel. They're excellent looking if you're searching for style on a budget, with a gorgeous deep teal color that I needed, and they're strong. The adjustable band inside the cushion is metal, which means it won't break at the edges as plastic ones do, but it's not great for long-term use and isn't ideal for noise cancellation.
Conclusion
From this article, you come to know how headphones play a vital role in our lives. Sound quality, active noise cancellation, frequency range, and battery life are significant considerations when purchasing headphones. There are a lot of over-ear headphones that come under budget. For your convenience, I've collected a shortlist. Choose the one based on your needs. Please don't forget to drop a comment, Whether I have missed anything important.