Best Monitor Calibrators For Designers & Photographers
February 7, 2022
2022-02-21 8:55
Best Monitor Calibrators For Designers & Photographers
Best Monitor Calibrators For Designers & Photographers
Are you a professional photographer or a professional graphic designer? Have you ever noticed how the color of an image changes completely when you transfer it from one display to another? This is done based on the type of system you have. There are so many different types of monitors available nowadays. Some professional monitors are calibrated when they come from the manufacturer. Even the calibrated system colors change when the monitor gets older.
Colors are essential in the work of any skilled designer or photographer. Designers and photographers need consistent ICC color results when working with numerous systems because the wrong colors might have a negative impact on your clients or career.
As a result, we need the best monitor calibration tool to give accurate and excellent results. First, we should know about what is monitor calibration? The process of measuring and adjusting the colors on your computer monitor to match a common standard is known as monitor calibration. 
The next question that comes to mind is probably what is a monitor calibrator? A monitor calibrator is a small software-based hardware device that hangs on your monitor.
Why Do You Need A Monitor Calibrator?
You may ask why I need a particular computer calibrator for designing when there are so many displays specifically designed for graphic designers and photographers.
The following hints will explain how monitor calibration tools can assist you and how essential it is to calibrate your display.
The first important thing is the contrast scale, and the brightness level will be corrected before starting your graphic design works. If you have not done this, it will greatly impact your job.
As a graphic designer, you know about gamma correction. The gamma correction is the next crucial point in the line of work. For visual graphics, the light exposure will be handled correctly. So if you have the monitor calibration device, that will help you with the gamma corrections.
The third advantage of a monitor calibrator is that it corrects the color temperature. That means you'll sometimes work on designs with vibrant colors that have a variety of colors that display clearly on different devices.
A final advantage of a computer calibrator is that it adjusts the color based on the room. Because if you don't have the right atmosphere, it will affect your eyes. In such a case, the monitor calibrator will be the best solution.
Top 5 Best Monitor Calibrators For Professional Graphic Designers & Photographers In 2022
1. DATACOLOR SPYDERX ELITE

The Datacolor SpyderX Elite is our top recommendation on the list. We were surprised after testing this best color calibration tool. Because the calibrating time is much faster when compared to its previous versions.
The SpyderX Elite display calibration tool has a lot of settings like grey-balancing, In just five minutes, the Datacolor SpyderX ELITE can make your laptop and desktop. After calibrating the monitor, you can compare the before and after photographs to see how the photos turned out. In addition, the DataColor SpyderX Elite supports the latest screen types, recent resolutions, and gamuts.
Using this display calibration tool, you can get the sharpest screen color, white balance, and shadow details with groundbreaking lens-based color engine technology. The SpyderX Elite offers a display analysis feature that allows you to understand the screen brightness, color, contrast, etc., on your screen monitors. When looking at different devices, your original photos may differ; in this case, the monitor calibration tool provides a soft proof function that allows you to observe the changes in the calibration monitor. You may also view how the print will appear on the printers, ink, and paper according to the changes in the printer.
The SpiderX Elite provides outstanding color calibration options for photographs and contains functions such as matching and calibrating numerous screens and projectors, which are essential for photographers. The Data Color Spider X is a very accurate monitor calibration tool, ideal for photographers and designers who require a precise color calibrator. Beginner graphic designers and photographers can benefit from the interactive help guide provided by the SpyderX Elite.
2.DATACOLOR SPYDERX PRO MONITOR CALIBRATION
Compared to other color calibration devices, the SpyderX Pro from Datacolor calibrates the system much quicker. However, hobbyist designers also want good display calibrators to make the best photos apart from professional photographers and designers. The SpyderX Pro comes with two simple calibration settings for those hobbyist photographers and designers to make it easy.
The SpyderX Pro computer monitor calibrator has the SpyderProof feature, which allows you to compare your photos before and after calibration in real-time. The SpyderX Pro uses cutting-edge lens-based engine technology to provide the highest color fidelity across numerous monitors. In addition, the software can either notify you that you need to readjust or do it automatically using preset profiles based on light levels.
This screen color calibration tool includes a display analysis function, which is used when working on a color-critical job. So you can figure out what your monitors' tone, brightness, and contrast levels are. You might doubt if monitor calibration can function with the latest technology screen. You don't have to be concerned because this color calibrator is capable of calibrating various screens, laptops, and even the most cutting-edge technology displays so that you can work with confidence.
Using the SpyderX Pro calibrator, the photographer gets the photos of what they took, and using the SpyderX Pro is the best way to calibrate the monitor. The SpyderX Pro is, without a doubt, the best monitor calibration for photographers.
3. WACOM COLOR MANAGER

Wacom Color Manager is ranked third on the list. The Wacom calibration tool offers several advantages, and the Wacom color manager software has two modes: a basic mode and an advanced mode. The basic mode is ideal for people unfamiliar with color changes and calibration. The software measures color modifications and other things in this mode. Beginner designers and photographers will benefit from this.
You can use the advanced mode if you are familiar with color adjustments and calibrations. At this advanced level, you must exert greater effort while simultaneously having complete control over all settings and the ability to customize the standard to your liking. 
You can use the Wacom Color Manager to share the same profiles in a workgroup. There is no need to do it for other screens, which will greatly improve the workflow. This product was created in cooperation with X-rite. Wacom is not only a monitor adjustment tool; the Wacom color manager can also be used to alter the colors on mobile and tablet devices. Wacom color manager is a color management tool for graphic designers and other professionals to help you achieve correct color accuracy. You can add custom colors extracted from your photographs or utilize Pantone libraries to create customized patch sets for ideal profiles using this screen calibration tool. The automatic screen control and the display quality assurance feature gives consistent color accuracy even in different lighting environment.
4. CALIBRITE COLORCHECKER DISPLAY PRO
The Colorchecker display pro is one of the best color check monitor calibration tools. When you print images using printers, it provides precise and constant color accuracy in monitors and projectors. As a result, the photographers and graphic designers received the photographs when they were taken. 
This color accuracy tester comes with cutting-edge software that includes a variety of useful functions for brightness, gamma correction, and white point. This calibration tool has two modes: one for basic calibration and another for advanced calibration. The basic mode is simple, making it suitable for new designers and photographers. If you have calibration experience, you can use the advanced mode. However, some of the technical options are a little complex.
The calibration tool saves your precious time and money because when you are working based on your eyesight, it takes lots of time and energy, but if you have the calibration tool, it gives the correct color management. Therefore, it is good to calibrate the system once a month.
X-Rite supports the Colorchecker Display Pro. It includes some top-notch filters, quick measurement speed, and high-level color accuracy that works on the latest LED and Gamut LCD monitor technology. It also contains an ambient light measurement, allowing the calibrated equipment to function with the lighting in your environment.
5. DATACOLOR SPYDERX STUDIO
Are you a professional photographer who has trouble deciding which monitor calibrator device to use? If so, you've come to the correct place. We tried Datacolor's SpyderX studio and found it the best monitor calibration tool for photographers. The Datacolor SpyderX Studio calibrates the monitor faster, and it also works on the latest technology displays, so you don't have to worry about it working on modern monitors. 
The Datacolor SpyderX Studio can calibrate the printer and develop custom profiles for any combination of papers, ink, and printers. This monitor and printer calibration tool ensures that your images are captured correctly, that your monitors display proper colors, and that your prints are flawless every time.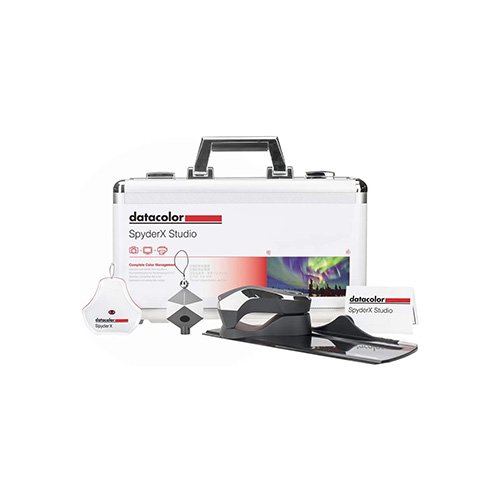 The DataColor SpyderX Studio has This device's Spyder cube generates white and black values; otherwise, working with a grey card is impossible. The Spyderproof feature allows you to compare the image before and after calibration of the monitor and printers. The color checker monitor gives the standard RAW settings to edit the photos. DataColor consistently produces the best monitor calibrators, and the SpyderX Studio is one of their greatest monitor calibrators. If you're a photographer or a graphic designer, the SypderX Studio gadget is a must-have.
Things you should consider when buying a monitor calibration tool
If you have the money, buying monitor calibration equipment is simple, but there are a few things to consider before doing so. Are you a first-time monitor calibration user and unsure how to select the best monitor calibration device? If you answered yes, you've come to the correct place. Fortunately, we've been given some crucial information to help you understand what to look for when choosing a monitor calibration kit.
What is your work location?
All designers do not work only from their homes or offices; some will do their work in a restaurant, on the road, or in a library where they feel comfortable and have a decent internet connection.
There is a chance to affect the screen based on the light in your room. As a result, you didn't acquire the exact photographs you wanted, which will cause you to be dissatisfied with your work. The monitor calibrator will come in handy in this case because it incorporates an ambient light sensor that provides accurate images of you even if you operate in the lightroom or direct sunshine.
Do you work with multiple monitors?
You may need to work on your computer and then travel to other locations, so you have copied files from your monitor to your laptop. If you are not calibrating your screens, the photographs are given a different look when looking at the same file on your laptop. When working with several monitors, calibrating the screen is critical, as is ensuring that the monitor calibrator tool can be used with various screens to provide consistent results.
How much printing do you take?
The cost of ink, as we all know, is relatively high. To print the clear photographs through the printer, we'll need a lot of ink. Instead of spending money on ink and paper, invest it in the best calibrating equipment to acquire clear images of what you want. So, if you need to take a lot of prints for your job, investing in an excellent calibrating instrument is the best way to ensure consistent results.
What is your budget?
The budget is the next topic we'll talk about. The display calibration tools cost between $80 and $500. You should spend extra money on calibrated displays if you need to operate with many monitors. On the other hand, a low-cost monitor calibrator is a good option if you're a beginner and don't know much about monitor calibration. Invest your hard-earned cash according to your personal preferences.
How to calibrate the monitor correctly?
After you've chosen the monitor calibrator device, the next step is to calibrate the monitor using a monitor calibrator. Here, we've posted the procedures for adequately calibrating the display. 
Firstly we have to do some basic steps, they are
Install the device and software
To cool the monitor, leave the monitor for 30 minutes 
Brightness and Contrast
The software has also made some suggestions for what you should use. First, however, you must carefully set the contrast and brightness for accurate display color. When you set these values, you're setting both the black and white values simultaneously.
Gamma Correction
You should be familiar with gamma correction as a skilled graphic designer. Gamma is a majority used in film photography. The curve's toe and shoulder demonstrate how a film will react differently at the light value extremes it can record.
If you are a professional photographer, it expresses the value of light and the tool's reaction.
Color Temperature 
While calibrating the monitor, the most important thing to remember is to adjust the monitor for proper balance. If you don't do this, your color temperature will be incorrect.
Ambient Light
As previously said, the work can be done in various locations. In such a scenario, you can keep the profile depending on your various ambient lights, which reduces the time it takes to recalibrate the display.
 5 Free Monitor Calibration Software
We have included the 5 free monitor calibration software in the following list.
01. Calibrize
The Calibrize monitor calibrator is one of the best software programs, so we have listed the first position. Most people used the Calibrize software because it was simple to use. There's no need to be concerned about if this software will work on different sorts of monitors because it will, and the Calibrize software is also compatible with all kinds of graphics software. The vital benefit of this Calibrize software is that you can install the software for free, and you must connect to the internet while using this tool.
02. Quick Gamma
Quick Gamma is a decent calibration software that works with Windows 7 and later versions of Windows. The ideal gamma value for photography, Windows, and the internet is 2.2. This software simplifies screen color calibration and can be used on a personal computer. You won't have to change the value every time you start your computer because the software will update the deviating Gamma value for you.
03. Display CAL
The following software is Display CAL, and this method works for both Windows and Mac to change the display settings on your monitor. The Display CAL is free software that produces accurate results and calibrates the monitor to the proper color temperature. This software also builds an ICC profile for your system and allows you to alter the black color level.
 04. Lagom LCD Monitor
The Lagom LCD Monitor software can work both online and offline. It allows you to modify the color on your monitor by using the test photos as a guide. Using this software, you can adjust the brightness, contrast, gamma settings, and so on. This gives the best color level for your system as you wish. The Lagom LCD monitor software works with all versions of the Windows Operating System.
05. Natural Color Pro
Natural Color Pro is one of the best monitor calibration software for LED and CRT monitors. It's a Samsung software that lets you change the color of your CDT and LCD monitors' displays. This software is also available for free in Windows and previous versions of Windows. In addition, it will show the RGB levels for the Gamma to customize the color levels on the screen.
Can all monitors be calibrated?
All monitors can calibrate, and if you're going to conduct photo editing, you'll need to calibrate your monitor. Apple makes some good displays, but they're neither particularly unique nor (specifically) less in need of calibration than other brands.
 Final Note
We hope this post has provided you with some information regarding monitor calibrators. Monitor calibrators provide consistent color fidelity, making them the finest calibrator choice for professional graphic designers and photographers. Furthermore, the monitor calibrator tool gives confidence to designers and saves them time. We've compiled a list of the top 5 monitor calibrators, together with their specifications and advantages, and disadvantages. So, based on your preferences, pick the best one.