The 10 Best Headphones for Kids for a Safe Hearing
March 4, 2022
2022-07-07 6:40
The 10 Best Headphones for Kids for a Safe Hearing
The 10 Best Headphones for Kids for a Safe Hearing
Our testing shows that the
Puro Sound Labs BT2200s
headphones are the best option for children. These headphones are portable and comfortable to wear for extended periods. If you think about your budget, you can go with the
JLab JBuddies
kid's headphones.
Headphones are a must-have item for everyone. Headphones have numerous advantages. It can help you listen to music, take online classes, and so on. Headphones are essential not only for adults but also for kids. A wide range of children's headphones is now available on the market. There are numerous types of headphones available for children. When selecting headphones for toddlers, we must be cautious because some headphones can harm your child's hearing capacity. 
Puro Sound Labs PuroQuiets
The headphones must be comfortable for your children; do not buy large-sized headphones. Because children's ears are so gentle, look for headphones with cushioned ear pads. We have listed the top ten best kids' headphones in this article, and we believe this post will help you find the best headphones for your children. We tested headphones based on volume levels, uses, designs, and noise-canceling, so the choice is now yours to choose a good headphone that is comfortable for your children.
10 Best Headphones for Kids For All Budgets in 2022
First and foremost, we will continue with the Puro Sound Labs brand. The Puro Sound Labs BT2200s headphone is ideal for children who spend a lot of time playing video games and watching TV. If you're looking for wireless headphones for kids, Puro Sound Labs is the way to go. Because these headphones have a one-touch Bluetooth connection, they can easily connect to your iPhone or Android device, allowing the kids to listen to songs within 30-foot ranges freely. The first thing we must consider when choosing headphones for preschoolers is
safety
.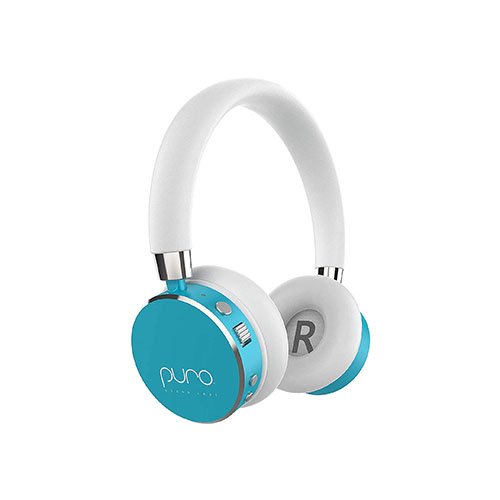 Puro Sound Labs designed the headphones per WHO recommendations for an 85dB-limited limit. The Puro Sounds Labs BT2200s is a lightweight headphone that allows kids to wear it for extended periods while listening to music. This is since it blocks 82 percent of background noises. This lightweight headphone comes with cushioned earpads that give maximum comfort for your children, and the kid can easily adjust the headband. 
The Daisy Chain enables two headphones to share a single device. The child can quickly answer video and audio calls with the help of this built-in microphone. The Puro Sounds Labs BT2200s' next feature is its battery life; a single charge can last up to 22 hours. These are the fantastic features of the Puro Sounds Labs BT2200s; if you are looking for the best wireless headphones, these are the ones to go with.
One of the best kid-friendly headphones is the Puro Sound Labs PuroQuiets. This expensive headset is ideal for children who frequently travel by bus, train, or plane, and it is also ideal for those who are sensitive to low-frequency sounds. According to our testing results, this is the best noise-canceling headphone for kids that provides a good sound experience. Many organizations recommend it has the same 85dB-limited limit as the Puro Sounds Labs BT2200s. These headphones can be connected in two ways: wired or wireless. The headphone will be paired with your device with a single touch, and children can listen to their lessons without interruption within 30-foot ranges.
The Puro Sound Labs PuroQuiets Kids headphones charge quickly with a USB cable and have a good battery life that allows the kids to enjoy their activities for 35 hours on a single charge. It has a built-in microphone and provides 78 percent noise cancellation.
This headphone has an adjustable headband and comfortable earpads that provide a good fit for children's ears and allow them to use it for an extended period. The Puro Sound Labs PuroQuites are available in various colors, allowing you to select the headphones based on your children's preferences. If you're looking for headphones for your little girl, give her these pink headphones for her birthday.
Is your child an avid gamer? Do you want to find the best gaming headphones for your child? If you answered yes, you've come to the right place. The JLab JBuddies is an excellent choice for children who enjoy video games and learning on a computer or laptop. The earpads are cushioned to ensure child ear safety and allow the child to play for an extended period in comfort. JLab JBuddies wireless headphone is ideal for children aged six and up.
This on-ear wireless kid's headphone comes with a retractable microphone so you can quickly speak with your friends while playing online games, and also it comes with a mute button so you can get quickly off the mic. This low-cost kids headphone has an in-built volume controller that ensures the child's safety and allows the child to hear volume levels lower than 85db. This headphone is compatible with any Xbox, PC, or gaming system, and it also comes with an AUX console cord, which provides a convenient volume control option. The headphone comes with a micro USB cable for charging, and you can listen to music for the next 22 hours.
BuddyPhones is an award-winning headphone for its innovative features and design, making it one of the best-wired headphones for toddlers. It has a volume-limiting feature to ensure the child's safety. According to WHO recommendations, buddy phones allow children to hear at a volume of less than 85dB. It is a best-selling headphone with a foldable headband that the child can take with them wherever they go. Because of the cushioned earpads, your child can wear the headphones for an extended time.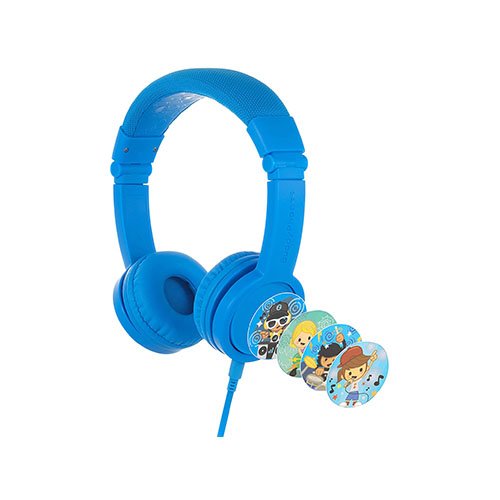 These cheap headphones feature cartoon stickers and bright colors that stimulate their interest to keep the kids entertained. According to our tests, the headphones' durability is adequate for their price, and durability is an important consideration when purchasing headphones for toddlers.
Compared to the Puro Sounds Labs BT2200s, the sound system in buddy phones is a little dull, and wired headphones do not have the option to reduce the volume level like Bluetooth connectivity headphones. The Buddyphones headphones are good, but only when the earcups are rotated. When the earcups are not rotated, the toddlers are not as comfortable. A sturdy audio jack allows up to four headphones to be plugged into a single device. Thank you for the carrying case for the headphones; it will come in handy when traveling. 
JLab JBuddies Bluetooth Headphone is the best wireless over-ear headphone for kids that is also reasonably priced. This low-cost headphone is appropriate for children aged 5 and up. It has a built-in button to control voice levels, mute, and other things that the child can easily access.
As we all know, children's ears are susceptible, and if they listen to too much noise through headphones, they risk damaging their ears. The JLab JBuddies has an in-built voice controller that allows the children to listen to songs with an 85dB volume level to protect the child's health. The ear cups are made of comfortable leather, which provides more comfort to the child and gives the child is not wearing headphones.
The child can easily connect the headphones to their device and enjoy music while traveling with Bluetooth connectivity. Our test doesn't give more durability, and the earpads are not easy to replace. This children's headphone also has a detachable cable that allows the child to connect with non-Bluetooth gadgets. The headphones' battery life is incredible, allowing the children to listen to songs for a few days.
The LilGadgets is a good choice for children aged 4 and up. All Bluetooth devices are compatible with the Lilgadgets wireless kids headphone. This elegant headphone is the ideal gift for toddlers, and it is available in a variety of colors, allowing you to match the headphones to the child's preferences. The headphones' earpads are made of high-quality material, which provides more comfort to the child, and the cushioned earpads provide a soft feel to the child's ear.
If you're looking for headphones for kids under $50, the LilGadgets headphone will meet all of your needs. It is made of solid plastics and metals that last a long time when it comes to durability. The headphones' headband is adjustable, and the 24-hour charge can last up to 18 hours.
It also has a noise-canceling function that eliminates background noise so the child can concentrate on the lesson without distractions. The LillGadgets safest kids headphones also come with a travel bag, making it easier to transport the headphones while traveling. This fashionable children's headphone features a share port, which allows you to connect one or more headphones to a single device.
The LilGadgets Conncet+ toddler headphone is the best value for money. This kid-friendly headphone has two ports for sharing multiple headphones with a single device. The LilGadget connect + headphones are suitable for children aged 3 to 7 years.
If you're purchasing for a child under the age of 5, make sure the headphones are comfy enough to remain on your kid's head. It offers detachable audio cables, and the earpads of the headphones are made of comfy leather that gives a comfortable feel when wearing these headphones and never hurts the child's gentle ear.
It also offers a built-in voice limited option, and also it provides the noise-canceling function that helps the kids listen to the lessons or songs even the lower voice levels. You can easily fold the headphones when not in use which saves space in your travel time. The headphone's design is beautiful, and the vivid color attracts the child that gives the interest to wear headphones. The child can play games and watch movies with their friends with the help of the share port. 
The JLab JBuddies are among the best low-cost wired headphones for kids. The headphone's headband is small, making it ideal for children as young as two years old. The earpads are made of high-quality leather that will never irritate the child's skin. Jbuddies headphones come with fun stickers to keep the child entertained, and they are always designed with high-quality components so that JLab headphones are popular with both children and parents.
The JLab JBuddies come with a headphone storage case that protects the headphones from scratches and damage while traveling.  The Jbuddies were created for children to ensure a super perfect fit, making long, long drives and plane rides more manageable and enjoyable. The Jbuddies headphones are sure to keep kids happy while also assuring parents that their children's listening experience is safe. The JLab Headphone is compatible with DVD players, iPods, computers, and other devices. So you don't have to be concerned about whether or not it will work with these devices.
The Biggerfive Kids headphone is compatible with children's tablets, computers, laptops, tablets, and other devices. Seven different LED colors on both sides of the earcups stimulate children's interest in schoolwork. The outside of the ear cups is made of soft – silicone, and the headbands are easily adjustable so that the child can adjust the headband to their liking. Another advantage is that it includes a two-level adjustable voice limit of 85dB and 94dB. When the child is studying, the 85dB voice mode is ideal, and the 94dB mode is ideal when traveling.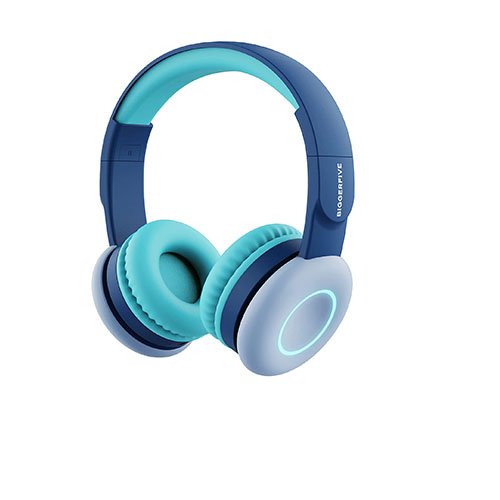 The headphone folds easily when not in use, which is especially useful when traveling. Because they have a one-touch Bluetooth connection. As a result, it is simple to connect to your iPhone or Android device, allowing your children to listen to songs within 33-foot ranges freely. There is no need to be concerned about your children's hearing damage even without parental supervision. Help your children enjoy what they listen to at a safe volume for different situations or tasks.
Finally, we talk about the Tonies wired headphones for kids. This wired headphone is suitable for children and is reasonably priced. It is designed with colorful stickers to pique children's interest, and you can easily fold this wired headphone when not in use. Tonies wired headphones are an excellent choice for children if you are looking for a wired headset for less than $30.
The Tonies headphone allows four headphones to connect to a single device. The headphone weighs 120kg, so the child can easily fit it on their head and it never hurts the child's head. The headphone's design is lovely, and the vibrant color appeals to the child, piquing their interest in wearing headphones. The headphone is made of an allergy-safe cushion, and it also has a voice limiting controller function, so parents never have to worry about their child's hearing capacity.
What to look for in a kid's headphone 
Over-Ear Headphone or In-Ear Headphone 
First, we must choose whether to get over-ear or in-ear headphones for our kids. Both models have benefits and drawbacks. In-ear headphones are smaller than over-ear headphones, making them ideal for traveling with little children. A preferable choice for children with sensitive inner ears is an over-ear cup that covers the ear and has soft padding to provide comfort and pleasure.
Microphone 
Your kids might want a set of headphones with a microphone since so many children are participating in virtual learning environments. Thanks to these great features, they may communicate with tutors and schoolmates without utilizing the built-in microphone on their tablet or laptop. 
Wireless or Wired
Both over-ear and in-ear models have wired and wireless. The benefit of wired headphones is that they don't require charging. They only need to be plugged into a compatible device to be put to use. If you want wireless headphones, invest in a pair with quick charging capabilities and extended battery life. 
Volume Control
There are headphones made specifically for kids with volume controls that set the level at 85 dB. However, if you buy a pair without it, many mobile phones come with built-in volume control features that you might be able to access through the settings option.
Using headphones or earbuds can be safe for a kid based on the noise level, amount of time spent listening, and size of the ear canal. One loud song probably won't ruin a kid's hearing. However, exposure to loud music regularly can eventually damage your hearing.
Children with trouble hearing can wear noise-cancelling headphones to enhance their listening abilities. Children can better understand conversations and other noises by using headphones to reduce background noise.
It's important to remember that 85 dB is only safe if a child listens for no longer than eight hours. You might also let your kid take a rest in between listening sessions.
Final Words
These are our top ten best headphones for kids . We've included specifications and prices so you can pick the best one for your needs. When purchasing headphones for your children, please consider their safety. If you purchase a low-quality headphone, the child's ear may be damaged. So, use this guide to find the best headphones for your children.