Nowadays, most small kids are very proactive. Feeding is a difficult task for each parent. So, this type of high chair will help you keep the baby in a single place for a while. Using this, you need to stay upright each time while feeding, and the spilled food must be in the same place. It makes cleaning as easy. The High chair makes the baby sit on its own without falling.
Most think buying a high chair is a waste of money. It makes our work easy and ensures the safety of the kid. Many new models of high chairs are available in the market. The only difference is their structure and their features. By the way, we are worried about the space occupied by the high chair. But nowadays, it is available in foldable ones, so they occupy very little space and can be kept in a bag.
What is a high chair?
A self-supporting chair raised at least 15 inches above the ground for feeding a kid younger than three is referred to as a high chair. Depending on your budget, you can find high chairs with or without an attached tray and various other features.
Benefits Of High Chair For Babies
High chairs can be helpful in various ways. The below image illustrates the benefits of high chairs for babies.
Overview Of Different Types Of High Chairs
10 Best and Safest High Chair for infants
1. Graco Slim Snacker High Chair
The Graco Slim Snacker Highchair is an incredibly quick-folding highchair that takes just one minute or one hand to fold. Their products are good in design. And it fits your house's interior work. The baby can easy to get in and out with the use of one hand tray. It is a 2-in-1 convertible best booster high chair. The Graco high chair is precisely suitable for infants. 
It is small when collapsed and stands up on its own for convenient storage. Quickly wipe the seat cushion down to maintain the cleanliness of the child's mealing area while cleaning this compact highchair. You can keep other wipes and bibs in a spacious mesh basket, and a full-size cup attachment securely holds their beverage. Your youngster will be comfortable for snacks and meals due to the 3-position tilting seating, footstool, and seat padding.
I wanted to love it since it was simple to put together, the quality was excellent, and it folded up quickly. The plastic wrapping is quite challenging to remove. Food begins to build up in the cracks where it becomes stuck. I decided to remove the plastic to reach the dirt. It was challenging to both take-off and reapply the plastic. As a result, it has been hovering in the middle. Other than that, cleaning the plastic seats were simple.
2. Peg Perego Siesta Folding High Chair
The Siesta is a multipurpose, tiny high chair that may grow with a child effortlessly. The Siesta may be used as a child seat or a recliner for breastfeeding, entertaining, and sleeping starting at birth. The child can sit at the table directly due to the detachable tray and adjustable height settings. Throughout infancy to toddlerhood, a child is followed in the Siesta.
A tiny baby could be remained close to the multipurpose high chair by using it as a cozy recliner. The five reclining settings and nine elevation positions offer an excellent area for unwinding, dining, or engaging as the youngster grows. As a result of the Siesta's adjustable elevation settings and detachable tray, mealtime will be an actual family event. Only with Siesta moving from one room to another is easy. Floor-friendly roller wheels make it simple to move furniture from the kitchen to the children's room and instantly lock it for security. The Siesta collapses swiftly and neatly whenever it's ready to store it.
The Siesta is ideal for urban residential areas due to its small fold, making it simple to stow when unused. The Siesta is a beautiful addition to any kitchen or living area with its streamlined design and wide range of gorgeous, rich hues. Additionally, cleaning is a snap with the Siesta. With a moist towel, you may clean the Prima Class fabric.
3. Abiie Beyond Wooden High Chair
The contemporary style abiie baby walker will improve your house. It is made in our accredited laboratory and was developed entirely in the United States. A cluttered lounge area or old high chairs collecting dust in storage might make them an embarrassment. According to its streamlined and portable design, the Abiie chair has a small footprint. Its modern appearance will improve your house and won't even take up much room in your dining spaces.
This high chair will perfectly complement the decor. How busy the baby is, the seat is designed to stay upright and didn't budge from its posture. Several O.T.s have chosen this high chair because of its durability as a feasible choice for moms of kids with special needs. The seating and footstool can be raised or lowered to assist various ages. Having your feet level on the footstool and the knees slightly bent at a 90 ° angle, you've earned yourselves some fantastic flexible support to aid in balance, chewing, and digesting.
With less than 20 minutes, the high chair could be adjusted to any elevation position for usage as a toddler chair or as a regular eating chair across all eras! It is affordable and immediately adds a spare chair to your house when you require one. A toolless modification is possible. Parents can easily access many areas of the chair meant for cleaning. The cushions are easy to clean because they repel stains. You can easily remove your kid's dirt or mess with a quick rinse with a moist towel. You won't soak the unwanted spills because the cushioning is water-resistant. The washing is safe for the easily detachable tray covering.
4. Fisher Price SpaceSaver High Chair
A portable chair that keeps babies comfortable and their meals off the ground is the Fisher-Price SpaceSaver Easy Clean High Chair. Before becoming a child seat, you can adjust the seat's plate elevation and inclination throughout the term to grow with your child. Additionally, for simple cleansing, the flexible seat covering is washable.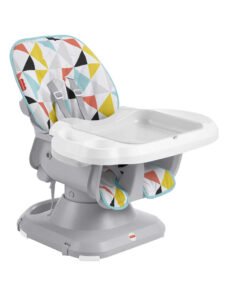 This highchair can be on the ground or connected to a giant adult chair. It is incredibly durable and simple to clean. Cleaning up is simple due to the tray's straightforward design! Although you may wash the cloth, most things easily rub off. Based on the specific age, the harnesses can support many different thicknesses. On the one hand, the seat also lies down.
With the Fisher Price Space Saver High Chair, you can enjoy all the benefits of a full-sized high chair in a compact form that fits nicely with most eating and cafe seats. It offers two elevation modifications and three reclined options to keep the baby comfy. Once the kid is ready, you may convert it into a teenage booster. Additionally, cleaning this booster seat is a breeze. The spill-resistant seating pad and straps are washable, and the revolutionary design prevents your child from sliding meals off the table.
5. Summer Pop 'n Sit Portable Highchair
Each parent understands the importance of having a baby high chair if you're dining, eating, or entertaining outside or inside. The Summer Pop 'n Sit Movable High Chair is ideal for home or traveling. You may use the Pop 'n Sit as a space-saving highchair and even a portable highchair for traveling due to its inventive fold-and-pop design and quick, simple, and simple folding!
The ideal chair for the child is the Summer Pop 'n Sit Movable Highchair. This high chair is one of the ultimate solutions if you require one for a meal at a restaurant, sitting outdoors, or just a seat at home. Make it a baby activities seat to occupy them or as a raised child seat at the restaurant. The detachable, BPA-free, washer-friendly tray and washable cloth make cleanup simple. The Pop 'n Sit Movable Highchair is simple to transport on all your trips, both outdoors and indoors, due to its novel snap and collapse design, slight fold, and also included carrying case.
The material is detachable and washable. This newborn and toddler high chair has a rigid plastic tray that is solid enough to prevent food from falling into the kid's lap and offers a spotless surface for eating. It is intended for use with infants up to 6 months old. A 3-point security belt, a luggage case for traveling, and a back storage pocket are all included with the Summer Pop 'n Sit Movable Highchair.
6. Baby Jogger City Bistro High Chair
This tiny, foldable high chair is ideal for those seeking a stylish, slim high chair that can store in even the most minor locations. The high chair from the City Bistro folds into a self-standing fold and is 80% smaller than when it is unfolded. The tray easily clips onto the rear of the high chair. You may clean the tray insert may be cleaned in the dishwasher.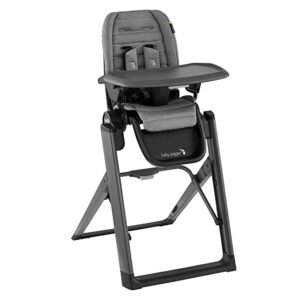 The high chair may fit in very compact spaces because its folded footprint is 80% smaller than when it is unfolded. The high chair has a quick, two-step fold that may use to stand up on its own. The tray clips to the back of the high chair, leaving no more parts to remember. A height-adjustable chair has four configurations so that the infant may participate in family meals.
A dishwasher-safe tray insert makes cleanup simple. The most comfortable position for the baby is one that includes calf support. Baby is more comfortable thanks to the soft premium seat pad, whose materials are machine washable and stain-resistant.
7. Strokke Store Tripp Trapp High Chair
Your baby may sit at the table next to you with the Tripp Trapp High Chair. Although the beech wood chair can support up to 300 pounds, your child can use the Baby Set for as long as they like. It is excellent for babies from 6 to 36 months. A five-point safety harness and an easy-to-clean seat are included with the Baby Set.
Remove back and foot support when your child outgrows the set and adjust it to the perfect, ergonomic angle. You can create Tripp Trapp Chair with your child's freedom of movement in mind. Additionally, it comes in a variety of colors and two wood treatments, making it possible for it to appear stunning in any environment.
The Tripp Trapp, when correctly set, provides the optimal elbow angle for writing and eating. The foot plate provides stability by bringing the earth to the feet, while the curved backrest offers natural spine support. Thanks to Tripp Trapp, which brings your baby closer to you, your baby may connect, learn, and develop with you and the rest of the family at the dinner table. For newborns as young as six months old and children as old as three, the Tripp Trapp High Chair comprises the Tripp Trapp chair and the Tripp Trapp Baby Set.
8.

Inglesina Fast Table Chair
The simple twist-tight coupling of Inglesina's Fast Table Chair is quick and safe and provides the baby a seat at the table. With an integrated travel-friendly carry bag, the Fast Table Chair is simple to pack and always available. It fits tables up to 3.3″ thick and is ideal for home or traveling. The strong and washable construction guarantees that this product will last for years. It is suitable for babies and toddlers between 6 and 36 months old who weigh up to 37 pounds.
The extra-compact Fast Table Chair has non-slip twist-tight arms and a foldable design that make it portable and space-efficient. The Fast Table Chair is portable and has a built-in carry bag tucked away behind the seat. It makes mealtime simple because you can take it to restaurants or take it with you wherever you go—small baby goods like bottles, wet wipes, and toys. Fit perfectly in a convenient rear storage pocket at the back of the seat, saving room and freeing up your hand.
Thanks to the Fast Table Chair's simple washing process, you can have a joyful mealtime with your infant. The Fast Table Chair is free of regulated BPA, BPS, flame retardants, phthalates, and lead, just like all other Inglesina products.
9.

Cosco Simple Fold High Chair
Purchasing a high chair of good quality doesn't have to be expensive. The Cosco Simple Fold High Chair has a three-point harness to keep your child secure and folds flat for simple storage. The seat and tray may both be thoroughly cleaned. Additionally, the chair is lightweight (less than 15 pounds), making it simple to move around.
Children up to 50 pounds can sit safely in the chair due to its sturdy, strengthened legs and three-point safety harness. After meals, this Cosco portable high chair instantly collapses into a flat position for storing out of sight or packing conveniently into a car. It is lightweight and stable and has a straightforward, uncomplicated design. This chair has a wipeable seat pad that makes cleanup quick and clear and is equipped to handle any mess your child may generate.
A three-position adjustable tray with an integrated cup holder guarantees that your growing youngster will have plenty of room. With additional softness for delicate skin, the fabric of this high chair provides all the durability you need for snacks or lunchtime. This high chair is JPMA-certified and complies with ASTM safety requirements, keeping little feet comfortable. In contrast, a built-in leg rest keeps them supported.
10.

Oribel Cocoon 3-Stage Adjustable, Easy-Clean High Chair
If you are looking for an easy-to-clean high chair, Oribel Cocoon is the best option. The three different recline options of the Cocoon adjust for your growing infant. From taking naps to feeding bottles to sitting at the family table. It fits perfectly with any modern kitchen or living area. This famous highchair comes in 4 stunning colors. It is ergonomically created to make feeding and to eat more accessible and everything else in between.
The waterproof EVA seat is simple to clean because it wipes down quickly. Babies can play comfortably in an extra-large 2-piece tray, and you can quickly detach the top tray for a thorough cleaning. The entire EVA shell of the high chair may be removed and washed in a sink for thorough cleaning.
Change your baby's colossal feeding tray with the innovative Food & Cup Holder. It enables parents to come closer to their infant for obstructed feeding during the early stages. Your baby will also enjoy eating in an environment that is more open and less constrained. Extra 180-degree recline mode for feeding bottom can adjust the Cocoon to the ideal height and reclining position using its 6 height adjustments. With its magnetic attachment, the tray can be safely stored away when bottle-feeding.
Things To Be Considered Before Buying The Best Baby High Chair

Detachable Tray
Adjustable? Removable? Dishwasher safe? Look for a large, robust, and detachable option that simplifies cleanup.
Comfort
After all, a fussy baby is unlikely to be interested in eating. A well-shaped seat or soft, machine-washable padding will keep the baby cozy and prepared to feed and explore.
Easy To Clean
When your infant is a toddler, he will eventually learn how to feed himself. There will be spills, splatters, and crumbs, so you'll need a simple high chair to clean. Think about a high chair with detachable components or materials that are simple to clean.
Wheels
It has wheels so you may transfer it from one area to another. To keep the chair fixed while feeding, see if you can lock the wheels.
Foldable
A folding chair might be something to consider if space is an issue. You may even get a portable chair, a fantastic space saver that can be transported. At the same time, you travel or take the baby to a restaurant.
Types Of Baby High Chairs
Standard High Chair
The easiest way to characterize a regular high chair is the very definition of a high chair. A straightforward chair with back and side supports stands tall on long, fixed legs. Due to their lack of features and alternatives, chairs in this category are typically the cheapest.
Foldable High Chair
You may fold this high chair may fold into itself to take up less room when stored between meals or while traveling by car.
Convertible High Chair
An adjustable high chair feels and looks like a standard high chair. However, you can alter the chairs to handle various circumstances. For instance, it can be used as an ordinary high chair for eating and weaning until your kid is a toddler.
When your child outgrows the high chair, you may transform it into a booster seat that you can attach to a dining or kitchen chair. You can change some variants into youth or toddler chairs and tables.
Grow Along High Chair
This high chair can grow old with your child, from when they first learn to sit until they are fully grown adults. You can get all of this by utilizing.
Space Saver High Chair
This is like a High Chair but without the lengthy legs (hence the space-saving). Mount this to an existing dining or kitchen chair to get the same height benefits as a standard high chair. They should be distinct from a booster seats because they raise your youngster quite a bit higher.
Hook On High Chair
This is a misfit when it comes to High Chairs. The Hook-on High Chair has no legs, only a seat you can mount on the table's edge. So, from a technical point of view, it is more of a center than a chair, but from a use case point of view, it works as a High Chair since it lifts your child to your level when seated.
Remember these high chair safety recommendations.
Your infant should be able to safely explore food in all its tactile, delicious splendor in the high chair.
Mothers with parenting expertise and The American Academy of Pediatrics offer the following tips so that you can concentrate on the meal and not any frightful events:
Baby should never be left alone in the chair. Although it should go without saying, an unattended baby who is feeding could topple over or choke.

Maintain a safe distance between your chair and other edges, such as the table. Baby enjoys pushing and stretching his legs, which could result in an unexpected tumble.

Choose a chair that is stable and won't readily tip over. You want to ensure the chair won't fall over even as the baby grows and becomes noisier.

Always abide by recommended weight and height ranges. Following them will guarantee that your kid is seated because they are there for a reason.

Verify that any wheels or casters are locked. Make sure your baby doesn't go on any strolls alone themselves.

When folding and unfolding your chair, exercise extreme caution. Brittany Ferri, an occupational therapist, located in Rochester, New York, argues that "safety features like locks will ensure that they stay in place when completed." And as you fold it back up, ensure the infant is far enough away to be safe. Little fingers or toes shouldn't get entangled in locks or hinges.

Make sure your table can hold a portable chair if you plan to use one. Before firmly fastening a portable chair to a table, be sure the table can sustain the seat's weight and the baby.
How much time may babies spend in a high chair?
Although there is no set age, your toddler will usually be prepared to leave the high chair between 18 months and three. They may still be a little wiggly during this range, but they are steady enough to maintain their upright position for long lengths.
Is a baby high chair helpful?
Using a baby's high seat would be the most beneficial method of caring for them. Thanks to high baby seats, allowing the child to sit in one place while being fed is pretty simple. The seat's height makes it convenient because you won't have to stoop down to feed your young one.
Conclusion
Selecting an excellent high chair for your baby takes time and effort. Everyone looks for the most convenient one. Because it varies by the kid's age, height, and weight, buying this will be worth the money. You can choose any of the following from the given article per your needs. The above products will help you choose the right one per your requirements.