10 Best Baby Activity Centers – A Rainbow of Fun and Learning
April 19, 2022
2022-06-15 9:47
10 Best Baby Activity Centers – A Rainbow of Fun and Learning
10 Best Baby Activity Centers – A Rainbow of Fun and Learning
As parents, we keep a close eye on our children's every move, and we all know that at six months, a child begins to explore the world. After 6 months, the baby will want to play even more, thus it is our responsibility as parents to keep our children entertained. If you are having the best baby activity centers in your home your baby can use it to sit and play with toys, as well as listen to music and sounds to amuse themselves.
The advantage of activity centers is that they provide a lot of sensory stimulation for your infant. For your baby to burn off some energy, most activity centers feature bright colors, different textures, sounds, and even sometimes lighting and music as well. Here we have listed the 10 best baby activity centers to buy for your child. 
What is a Baby Activity Center?
Activity centers are the ideal place to channel all of that developing curosity. They could provide a safe, secure environment for babies to investigate textures, motions, sights, and noises, as well as practise critical fine motor skills such as pincer grasping, reaching, gripping, and shaking.
A Quick Comparison of Our Favorites (Updated 2022)
Skip Hop Baby Activity Center
Fisher-Price Rainforest Jumperoo
10 Best Baby Activity Centers In 2022
01. Best for Entertainment:
Skip Hop 3 Stage Grow  Activity Center
Skip Hop is one of the best manufacturers of baby products. Their products are always of the best quality. Skip Hop 3 Stage Grow With Me Baby Activity Center is a 2-in-1 product. You may use it as a baby activity center and then turn it into a strong table as your child grows.
The seat rotates 360 degrees and expands for bouncing, as well as toy loops for attaching toys. Babies can see their feet via the Discovery Window, which promotes spatial awareness and teaches cause and effect.
This trendy activity center, which turns into a PlayStation and ultimately a toddler table, is a hit with both parents and newborns. The swivelling, swaying devices, as well as the electronic piano that lights up and plays melodies when children hit this with their hands and feet, are favourites among children. 
You can adjust the foot platform as per your baby's height. The activity center's bright-but-not-too-bright colors, as well as the fact that it may be used for a long time, are appreciated by parents.
02. Best for Baby's Sensory Experience: Fisher-Price Jumperoo Baby Activity Center
Fisher-Rainforest Price's Jumperoo is a tone of fun. Babies may jump, and jump all day long while being engaged in jungle-themed games like a peek-a-boo tiger and an elephant. You can easily adjust the height when your baby grows.
The seat rotates 360 degrees to continue to take it all in, and it can be changed to 3 different heights to allow them to move around while they develop. It's fantastic for getting them to move, activating their senses, and, most importantly, having fun.
For each and every jump the baby is rewarded with music, lights, and fascinating sounds. There's something interesting to do wherever your baby explorer looks. It is made mostly of plastic and metal and it is simple to clean. 
To get rid of bacteria and sticky residue left by little fingers, a moist towel or disinfecting wipe could be used for a fast once-over. You can wash it in the machine also. The vision, auditory, and tactile skills of your infant are stimulated by bright colors, lights, and a range of sounds and sensations. The Fisher-Price Rainforest Jumperoo is a safe and practical way to keep a supported-sitting toddler entertained.
03. Budget Friendly Infant Seat: Summer Infant Baby Seat
Summer Infant Baby Seat is a budget-friendly baby seat for your child. It will be a good seat for your baby from 4 months to 4 years. You can use this in three ways and in three stages. When your child can keep his or her head up unsupported, you can use an infant supporter seat position with a soft foam insert to provide a safe environment for him or her.
In the second stage the activity seat doubles as a play seat for your youngster, featuring a 360-degree rotatable tray and a soft toy bar featuring plush toys. As your child develops, the seat positioner can be converted to a booster seat. 
It comes with built-in chair straps that make it easy to attach it to a chair so your child can dine at the table. To make room for your developing youngster, the soft foam insert may be removed. As it is lightweight, it is ideal for use at home or as a portable feeding seat for youngsters up to the age of four. 4141
04. Best Portable Activity Center:  Summer® Pop 'N Jump® Portable Baby Activity Center
Are you a parent who needs the best portable baby activity center because you travel a lot with your kid? If yes, then Summer Pop 'N Jump is the best baby activity center for you. It is a favorite for parents who want to enjoy the summer. 
It's compact and lightweight so that you can carry it to the shore, park, or even your own backyard. This activity center also has a UV canopy on top to protect the infant from the sun's ultraviolet rays. It comes with the jumper seat in the center, surrounded by toys. It also includes a useful travel bag.
The space-saving portable jumper is suitable for both indoor and outdoor use. The special feature of this baby activity center is it has three degrees of height adjustment to allow the baby to grow with it. Also, it comes with a removable canopy also. The lightweight Pop 'N Jump sets up quickly and easily and folds up into the provided travel bag with a shoulder strap due to its clever pop and fold design.
05. Best Jumping Activity Center: Evenflo ExerSaucer Jumping Activity Center
Evenflo is a famous brand in the kid's world. They are manufacturing products with good quality. It has more than 65 types of exercises available on the top, while a smooth bounce base at the bottom gives the proper cushioning for all that hopping.
It may be adjusted to 3 different heights, as well as the seat pad can be easily removed for cleaning. Some of the toys are also detachable, allowing for play on the ground. Smart electronic toys communicate with one another, presenting babies with colorful lights and sounds from three different musical genres.
The baby can exercise his legs while still being amused by the extra jump. When your baby reaches the age of four months, you can begin using a baby activity center. The weight limit for using this baby activity center is 24 pounds. The disadvantage of this product is you can not clean it in the machine.
06. Best Educational Activity Center: Baby Einstein Neptune's Ocean Discovery Activity Jumper
Are you looking for a baby activity center to use as a tool for teaching your child the fundamentals? If yes, then you can choose Baby Einstein Neptune's Ocean activity jumper. It lets your kid jump into learning with a variety of ocean-themed exercises for the growth of gross motor skills. 
It teaches fundamental abilities like numbers and colors in Spanish, French, and English, in addition to other languages. The digital turtle play station can be detached for more flexible gameplay modes, and the jumper can be adjusted to four different heights as your baby grows. 
It comes with a splash of undersea magic, Neptune's Ocean Discovery Jumper provides your infant with 360 degrees of entertaining activities. Crab spins within a glass ball, a miniature starfish holding a self-discovery mirror, an octopus paddle toy, and flashcards with actual underwater imagery to increase vocabulary are among the items included.
The baby bounce chair stimulates your child to bounce and dance, which helps to build their leg muscles as they grow.  
07. Best Activity Center for a Long Time: Fisher-Price Deluxe Piano Gym
Unlike many activity centers, which are made to be used for only a few years of a baby's life, this activity center is made to be used for a longer period of time. You can use it from birth, with the infant resting on the piano keys and kicking them, or for tummy time fun.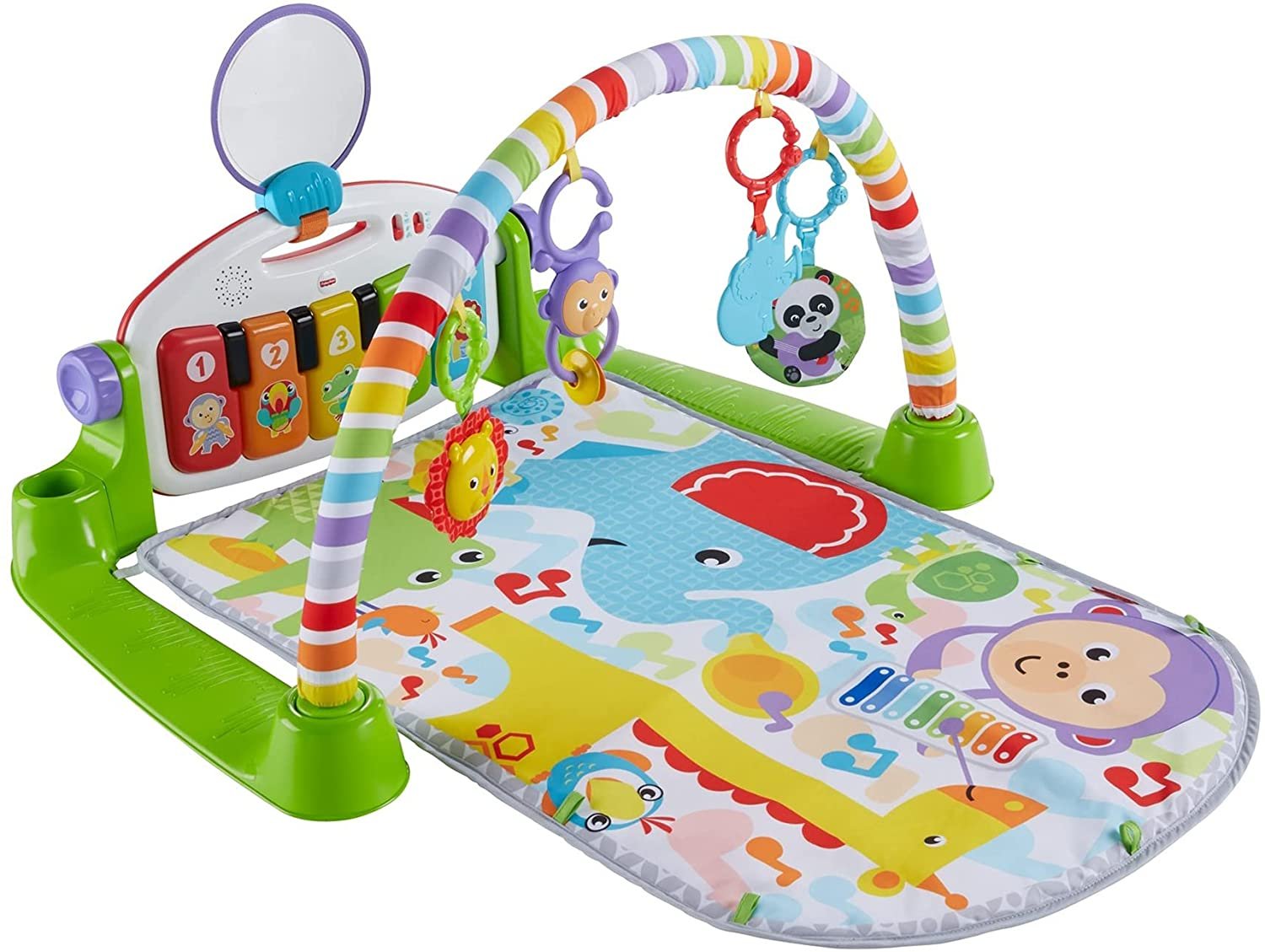 Toddlers can sit and play as they get older, learning colors, shapes, numbers, and other key abilities in the process. Because there is no seat, toddlers can play with this toy for as long as they like. Pressing the piano keys and listening to enjoyable sounds will keep your infant making a return to this gym time and time again.
As it is designed with lots of bright colors, different textures, and all those fun tunes, sounds, and words that stimulate and occupy your baby's growing senses. This activity center develops your gross motor skills. And you can wash the fabrics in the machine.
Smart Stages technology allows you to tailor the educational content related to the baby's age and developmental stage. 
08. Best foldable Activity Center: Oribel Portaplay Foldable Travel Activity Center
This activity center strikes a good balance between portability and durability. It appears to be a typical activity center, complete with toys that flip, squeak, and spin. You can convert the seat into a Play Table for children up to 5 years old, just replace the seat with the included Tabletop.
Children can use the PortaPlay Stools for painting, drawing, activities, and whatever else the child's imagination can come up with. Have you ever considered taking your activity center on the road? Whether you're planning a weekend getaway or simply storing your PortaPlay, we've got you covered. 
The PortaPlay's innovative legs fold inward fast and efficiently, allowing it to be stored in the car or closet. It is the best activity center with a table. You can customize your PortaPlay with their assortment of accessories, including art paper rolls to perfectly matched stools, to give your child a fresh pastime every day.
The PortaPlay seat has a durable elastic lining that allows the baby to have hours of fun bouncing. The seat also spins 360 degrees, inviting babies to stretch out for toys all around him or her, enabling better their gross motor abilities.
09. Best for Tall Baby:  Bright Starts 2 in 1 Activity Jumper and Table
If you want to turn this jumper into an activity table, detach the height-adjustable bounce pad. The musical frog sings happy songs and makes goofy pond noises, while the lily pads light up to entertain the baby's eyes and ears.
With seven activities and a bouncing seat that spins 360 degrees, there's something for everyone. To prevent living room toy takeovers, you'll adore how much action is crammed into one little space. Remove the bouncing pad and replace the infant seat. 
You can do that with the provided toy storage pouch when using it as an activity table to keep play sessions organized and things within reach of your child. Your child will practice fine motor skills with the help of these activities. 
The activity center is designed with the theme of a pond which helps your child to learn the names of plants and animals. On the whole your child will spend playtime as a useful one. 
10. Good Quality Activity Center: Storecraft Activity Walker and Rocker
It comes with a jumping board along with a Feeding Tray that goes above and beyond the average walker. A toy tray, a jumping board, a rocking option , and even a feeding tray are integrated to provide your child with the ultimate immersive game.
While the jumping board is in position, let your baby enjoy the entertaining rocking function. It makes this the best baby activity rocker also. Your child will be able to reach all of the toys with ease due to the 360º swivel.
It comes with a steering wheel. So, you can easily shift the baby activity walker from one place to another. It also includes an ice cream cone as well as cars, and buttons with sounds, which are all included on the detachable toy trays. 
Components are made of plastic, and the fabric is polyester. You can adjust the heights and a jumping board and a rocking feature that easily clicks into place. You can convert this baby walker into a feeding tray by detaching the Interactive Toy Tray. Now, your child will enjoy the feeding time also.
Things to be Consider Before Buying the Best Activity Center
Safety
When selecting a baby activity center, first evaluate the recommended age, weight limits, and dimensions to keep the child safe from injuries. If your child has a suggested age range, ensure they are not overweight. Find a product that has a safe seat, a firm base, and age-appropriate activities. Most activity centers are not suited for children under six months since they cannot sit up without help. On the other hand, some are intended for children aged four months and up.
Once you've confirmed that your infant can safely enjoy an activity center, you'll want to track how much time they spend there. It is good to use the activity center for 10 or 15 minutes once or twice daily. If you keep a long time in that center, there is a chance to make hip issues.
Educational Features
Activity centers should boost your baby's development and concentration with features that assist them in developing. Look for grabbing and moving toys; various texture handles to pull, push, and rotate, and bells and rattles. If your baby's center may be changed as they develop, ensure the activities continue to evolve developmentally effectively.
Convertibility
Some infant activity centers may also be converted into a play table for toddlers, allowing them to enjoy it while standing. As a result, you'll be able to get more usage out of your product.
Size
Some activity centers are rather large and take up more room than you anticipate. So, check the assembled size before buying it.
Portability
If you travel often, then consider the portability also. You can fold some baby activity centers for easy portability.
360 degrees accessibility
A 360-degree rotating seat is common in activity centers, allowing your infant to reach all around the activity center.
FAQs
When is it appropriate for your baby to use an activity center?
Between the ages of 6 and 12, parents could use baby activity center. When your child is prepared to stand and walk, then you may consider getting him an activity center that creates a secure space for him to play.
What are the benefits of using an activity center?
Your infant will benefit from the sensory stimulation provided by activity center toys. They also give your child a fun and safe activity. It's important to keep in mind that you should only use these products for two 10- to 15-minute sessions per day.
Are activity centers good for babies?
Activity centers are the best products to focus all of that developing curiosity. They offer a safe, secure environment for babies to explore sensations, movements, visuals, and music and develop crucial fine motor skills such as gripping and shaking.
How long can babies stand in activity center?
According to doctors, the time spent in an activity center or jumper should be limited to 20 minutes. The fabric seat may strain your baby's hip joints. Additionally, your infant requires lots of time for free floor play, which helps strengthen the muscles needed for standing and walking.
Final Words

The importance of a baby activity center in the development of motor skills in children cannot be overstated. From the age of six months, you can introduce your child to a baby activity center. However, it is critical that you select the best baby activity center for your child. We hope that our information will assist you in selecting the best option for your needs.