Apple 10.2 Inch iPad Review
March 1, 2022
2022-04-06 11:13
Apple 10.2 Inch iPad Review
Apple 10.2 Inch iPad Review
Apple 10.2-inch iPad delivers robust performance and an excellent front-facing camera at a reasonable price, making it the best tablet for most people.
Apple's best-value tablet this year is the iPad 10.2. It's faster than the previous, easier to operate, and has a new selfie camera which makes video calling more fluid than before. Other improvements are minor, such as the addition of True Tone technology, which adjusts the display to match your surroundings. Still, it's a reasonable investment for anyone looking for a low-cost tablet that doesn't require cutting-edge technology.
Specifications:
| | |
| --- | --- |
| Brand: Apple | Model Name: iPad |
| OS/Software: iPad OS 15 | Screen size: 10.2 inches |
| Generation: 9th Generation | Memory Storage Capacity: 64GB |
| Back Camera: 8MP wide | Front Camera: 12MP Ultrawide |
| Colors: Silver, Space Gray | Sim Type: Nano-SIM |
| Resolution: 1620 x 2160 pixels | Card Slot: No |
| Battery: Li-Ion, non-removable 8557mAh | Processor: Apple A13 Bionic |
| Jack: 3.5mm | |
This new iPad is used with the Apple Pencil as well as Smart Keyboard for a more laptop-like experience. Apple's latest dedicated tablet OS includes a slew of multitasking features as well as access to the App Store's thousands of apps and games.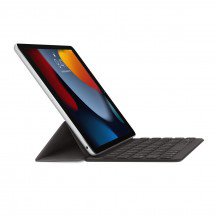 The ninth-generation Apple 10.2 inch iPad is apple's most cheap tablet, starting at $329, yet it comfortably outperforms Android versions that price twice as much. At the same time, it appears to be identical to last year's iPad, with several significant improvements beneath the hood, including double storage, a faster processor, and better cameras. It's the perfect size and price for the majority of people.
Apple 10.2 Inch iPad Unboxing:
The box comes with a thick, white, 2-piece design with an air-tight friction-fit.
It has a Power Delivery device with a Type-C finale port and a current rating of 20W at 5V@3A or 9V@2.22A. A regular, white, and relatively short Type-C Charging cable comes with it.
Apple 10.2 Inch iPad Design:
The new Apple 10.2 inch iPad (2021) looks like the 10.2-inch iPad (2020). This 10.2-inch iPad has a sleek design and rounded corners. It has a home button with a built-in touch ID sensor. The size of this iPad is 25.06 x 17.41 x 0.75 cm, and the display size is 10.2 inches. 
The Wi-Fi-only device, weighing 187g, is 3g lighter than last year's iPad 10.2 model. The Wi-Fi + LTE model, weighing 498g, is 3g bigger than its predecessor. There's no Face ID, so you'll have to rely on Touch ID, which is found to be quick to detect fingerprints & unlock the tablet. There are only two colors available: silver and grey. So, if you want the gold color, that was available on the iPad 10.2 (2020).
Connectivity and Control:
The volume sliders and activation buttons are reasonably priced, and both feel incredible – smooth to touch. There aren't any complaints.
Aside from the power switch, the tablet's topside also features a 3.5mm audio connector and one of 2 microphones. The other one, on the tablet's backside, is fairly near.
Apple 10.2 Inch iPad

Battery life:
Another thing taken from the 8th gen tablet is this. The battery in the iPad 10.2 (2021) is 8557mAh. However, the original iPad design – the 7th Generation – had a slightly larger 8827mAh battery.

Charging Speed:
We get roughly 12 hours of battery life, whether browsing on Wi-Fi or watching a video loop. It's not bad, but it's also not particularly spectacular.
Apple 10.2 Inch iPad

Speakers:
The iPad 10.2 (2021) has a dual speaker configuration like its predecessors. The two speakers are placed side-by-side on the device's bottom, which isn't perfect stereo separation.
The volume is also average. But the speakers are effective. You will not be getting lots of noise, but the ones you get are of good quality. The lower-end frequency response is really impressive. Voices come out as clear and clean as well.
Multitasking or Split Screen:
Apple has worked very hard to make its functions visible, evident, and useful to users. Three dots are now a permanent presence towards the top of every app's UI, for starters. The first option is the full screen; the second option folds the program to one side and prompts you to choose the 2nd app for a 2-app vertical split.
When you minimize a split-screen arrangement of two apps, they remain in the recent apps as a pair and can be promptly called back, which would be convenient. It's kind of like a one-time app pairing.
However, iPad OS 15 now allows you to drag one app from the app switcher screen onto the other and create a split-screen that way, in an attempt to make this split-screen functionality even more simple.
Apple 10.2 Inch iPad Performance:
The iPad 10.2 (2021), or 9th gen iPad, has nearly every aspect of its predecessor's design and build, but it did receive a minor chipset upgrade. It lacks the latest and finest Apple A15 Bionic processor found in the iPhone 13 series, and the newest iPad mini (2021) was released with it. It is instead upgraded from the A12 Bionic to the A13 Bionic. The gaming performance of this iPad is the same as the PC gaming performance.
It's a minor improvement, but it's not inconsequential. The A13 chip, like its predecessor, features a Hexa-core CPU design, although it's built on a somewhat superior 7nm+ production process and contains different CPU cores.
Camera with Ultrawide Selfie:
The iPad camera is not perfect as a walkaround camera. Not only does it have a strange appearance and pose some ergonomic issues. But any recent smartphone camera configuration will almost certainly exceed the iPad 10.2 (2021) and its single 8MP rear camera.
This iPad is essentially the same 8MP camera as the iPad 8th generation and iPad 7th Generation. It features 1.12 million pixels and an f/2.4 aperture lens, which is somewhat dull. You get the same primary autofocus. The only new feature available in the iPad 9th generation is gyro-EIS.
Photo Quality:
Let's begin with the primary 8MP camera. Its photos can only be considered adequate. And the fact that autofocus is reasonably consistent if a little slow. Colors aren't awful either if a little muted for our tastes.
The low dynamic range is probably the most serious issue here. 
Noise is also a significant problem. Whatever Apple does for sharpening appears to be good, so noise is only seen when zooms.
Apple 10.2 Inch iPad

Front Camera Quality:
The new 12MP HD front camera is a significant improvement, so over 1.2 MP, f/2.2 selfie camera is included on the ordinary iPad. Perhaps more apt for video recording than for images, although stills are also good.
The selfies themselves are passable but not spectacular. And the colors are brilliant, even if they're a little oversaturated. There's also not a lot of noise.
Apple 10.2 Inch iPad

Video Quality:
The primary and selfie cameras on the iPad 10.2 (2021) will capture 1080p video. The selfie camera can capture 60 frames per second. In terms of format, this one, like the latest Apple iPhones and iPads, takes HEVC, h.265 video, and photographs in the corresponding HEIF format by default. There is a "compatible" toggle in the phone's camera that forces photos to be JPG and movies to be h.264. 
Low light Camera Quality:
The Apple 10.2 inch iPad main 8MP camera performs poorly in low-light situations. This is pretty much what you'd expect with an f/2.4 lens in the front and an 8MP sensor. The photos appear to be very fuzzy and noisy. There isn't an excessive degree of over-sharpening either. The algorithm seems to do the best it can with the technology available.
| PROS | CONS |
| --- | --- |
| Upgraded front camera | Tinny speakers |
| True Tone Display | No Face ID |
| Powerful performance | No card slots |
Final Words:
Although Apple's entry-level iPad hasn't seen a design upgrade in years, it hasn't gotten a price rise. It outperforms more expensive Android rivals, has a great display that's good for both play and work, and will get OS updates for years. The Center Stage and the 12MP main camera are also nice enhancements for folks who work (or just video chat) from home. While iPad OS 15 isn't a complete replacement to macOS or Microsoft, it is Apple's most sophisticated tablet operating system to date.